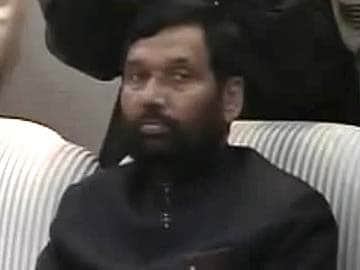 New Delhi:
Ram Vilas Paswan is one of the great survivors in Indian politics. He has been a minister in almost all the governments formed at the Centre since 1989. The ideology of the party in power has never stopped him from forging alliances.
In Narendra Modi's Cabinet, he has been given charge of the ministries of Consumer Affairs, Food and Public Distribution.
Mr Paswan, 67, a powerful Dalit leader from Bihar, played a big role in helping Narendra Modi shed the "political pariah" tag. At a time when the BJP's prime ministerial face was desperately looking for new allies, the Lok Janshakti Party founder dumped Lalu Prasad Yadav's Rashtriya Janata Dal to stitch an alliance with the BJP earlier this year.
10 years ago, Mr Paswan had walked out of the BJP-led alliance citing the 2002 riots in Gujarat on Mr Modi's watch. He was already upset at being shifted from the high-profile telecom ministry.
Mr Paswan started his political career in 1969, when he was elected to the Bihar assembly on the Samyukta Socialist Party ticket. He was jailed during the 1975 Emergency, and made his way into record books in the elections held in 1977, when he won from the Hajipur Lok Sabha seat in Bihar with the highest margin ever.
The LJP leader has now won his eighth term to the Lok Sabha. His son Chirag, who played a big role in convincing him to rejoin Mr Modi's BJP, and brother Ram Chandra too have been elected. A film actor-turned-politician, Chirag is the LJP's answer to Tejaswi and Tej Pratap Yadav, who are being groomed by Lalu to take over the reins of the RJD.