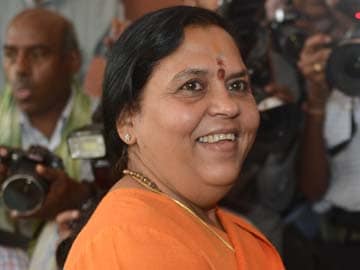 Uma Bharti, 55, has been sworn in as a Cabinet minister in the Narendra Modi government. She is in charge of the ministries of Water Resources, River Development and Ganga Rejuvenation.
She has been a union minister before. In the BJP-led National Democratic Alliance government of Atal Bihari Vajpayee, she held several portfolios like Tourism, Youth Affairs and Sports, and Coal and Mines.
In 2003, she became the Chief Minister of Madhya Pradesh, a position she had to give up months later when an arrest warrant was issued against her in a riot case.
Ms Bharti was expelled from the BJP for six years in 2005 for indiscipline. She floated her own party which failed to make a mark. She was reinducted into the BJP in 2011.
Ms Bharti describes herself as a
sanyasin
or monk. Born in a poor family in Madhya Pradesh, she had a formal education only till class 6. Her association with the BJP began when she was very young. Her political mentor Rajmata Vijayraje Scindia guided her to contest her first Lok Sabha election seat from Madhya Pradesh when she was only 25. She lost that election, but found the winning way in 1989, contesting elections in MP's Khajuraho. She retained the seat in the next three elections, and then contested in 1999 from Bhopal. In the NDA's reign she held several portfolios as a Central minister.
Uma Bharti was a prominent and controversial leader of the movement for a Ram temple in the days leading up to the demolition of the Babri mosque in Ayodhya on December 6, 1992.