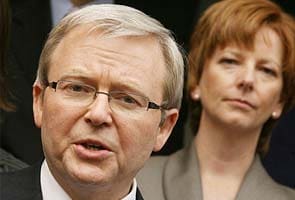 Sydney:
A charismatic but hot-tempered politician with an ear for the zeitgeist, the prodigal son of Australian politics Kevin Rudd sealed his remarkable resurrection as leader, pleading with the public to renew the faith.
Rudd, 55, was sworn in as Australia's 28th prime minister at Government House, capping a dramatic 24 hours in the nation's politics with echoes of his own demise in similar circumstances three years and three days ago.
The Mandarin-speaking ex-diplomat flipped history on its head, dispatching his once-deputy Julia Gillard in a 57-45 vote of Labor lawmakers to avenge his ouster from office shortly before 2010 elections.
"In 2007 the Australian people elected me to be their prime minister. That is a task that I resume today with humility, with honour and with an important sense of energy and purpose," Rudd said after his victory on Wednesday.
Ever a man of the people, Rudd made his pre-caucus pitch not to MPs but directly to voters, saying it was "the voices of the Australian people" that had persuaded him to challenge Gillard's leadership for the third time in little more than a year.
"We're on course for a catastrophic defeat unless there is change. And so today I'm saying to you, the people of Australia, I'm seeking to respond to your call," he said, vowing to reunite the fractious Labor camp which polls suggest is doomed to defeat in September elections.
Rudd stormed to power in 2007 with a landslide victory that ended a decade of conservative rule, campaigning for generational change with an emphasis on issues such as global warming.
He was for years a darling of the public, but his confidence with voters translated to egotism - even megalomania - behind the scenes, according to Labor colleagues who had, by mid-2010, lost faith in the prime minister.
A series of policy mis-steps provided the pretext for party members to swoop, deposing him in a shock coup which delivered Gillard to power as Australia's first female leader. She kept him in the cabinet as foreign minister, but they made uneasy partners.
His volatile temper was on show in a video that emerged in 2012, filmed when he was still premier, showing Rudd swearing and gesticulating in frustration while trying to record a public message. He accused the Gillard camp of leaking the footage.
Rudd came from humble beginnings to head the Labor Party and oust long-serving conservative leader John Howard.
Rudd promised closer engagement with Asia, made a landmark apology to Australia's Aborigines for their treatment under white rule, and ratified the Kyoto Protocol on climate change.
The assured, if bookish, leader unravelled Howard's harsh immigration policies and kept Australia recession-free throughout the global financial crisis, something no other advanced economy achieved.
He reminded colleagues of these credentials Wednesday as Australia's decade-long China resources boom cools and the economy faces a painful transition away from its reliance on mining.
Rudd endured a tough childhood, forced to sleep temporarily in a car aged 11 when his family was evicted from their Queensland farm following his father's death in a road accident.
He said that experience shaped the views on social justice that led him to run for federal parliament, where he was elected in 1998 at his second attempt.
Before arriving in Canberra he was a senior bureaucrat for the state Labor government in Queensland and had a lengthy career as a diplomat, including postings to Stockholm and Beijing.
The start of his first premiership's downfall can be traced to December 2009 when he failed to pass much-vaunted emissions trading laws and badly damaged his credibility with voters.
Rudd was further savaged in a very public dust-up with the powerful mining industry over plans for a new tax on resources profits which finally sparked his ouster.
Despite his dumping as prime minister, Rudd consistently came out on opinion polls as the preferred leader ahead of Gillard.
Wednesday was his third tilt at his old job since being dispatched in 2010 - he famously quit as foreign minister in February 2012 while in Washington to challenge Gillard, losing 31 votes to 71.
His backers agitated again for a ballot in March, but Rudd refused to stand when Gillard called his bluff and announced a sudden vote.
Rudd is married with three children. His wife Therese Rein is a millionaire businesswoman.