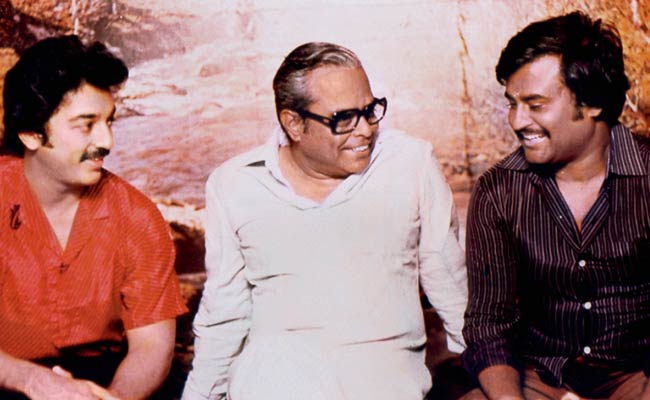 Chennai:
Acclaimed filmmaker K Balachander, who died at the age of 84 on Thursday, had brought in a new wave of filmmaking in Tamil cinema with bold themes and mentored talented actors like Kamal Haasan, Rajinikanth and Sridevi.
The Dadasaheb Phalke award winner had carved out a niche for himself on the national stage with memorable films like 'Arangetram', 'Aval Oru Thodarkadhai', Rajini and Haasan-starrer 'Apoorva Raagangal', 'Avargal', 'Ek Duje Ke Liye' and 'Aaina'.
Popularly known as KB, Kailasam Balachander broke away from the staple Tamil films in the early '70s by championing bold themes and the cause of women and the downtrodden in his films.
As a trendsetter, he often courted controversies. One of the early ones involved the portrayal of a Brahmin girl as a prostitute, which shook the community to which he belonged.
Hailed as "Iyakunar Sigaram" (a giant among directors), Balachander stood out for experimenting with new faces like Saritha, Sujatha, Mohan, Prakash Raj, comedian Vivek and character artiste Nazar. A tough taskmaster, he brought out the best from his actors.
Balachander made his debut in cinema with Tamil film 'Neerkumizhi', based on his play, in 1965. Late comedian Nagesh had played the poignant role of a cancer patient in the film.
His 'Sindhu Bhairavi' was a brilliant portrayal of a yearning for intellectual companionship by the protagonist and the intricate relationship problems that came of it.
Born on July 9, 1930, at Nannilam in then composite Thanjavur district, Balachander directed films in Tamil, Telugu, Kannada and Hindi. He wrote, directed and produced more than 100 films in his long career, launching more than 65 actors, actresses and technicians in the Tamil film industry.
His blockbuster movies include 'Aval Oru Thodarkathai' (Tamil), which was remade as 'Anthulaney Katha' in Telugu, 'Maro Charitra' (Telugu) remade as 'Ek Dhuje Ke Liye' in Hindi, and 'Thillu Mullu' (remake of Golmaal in Hindi).
Several accolades came his way in his glittering career - including the Dadasaheb Phalke award (2010), Padma Shri (1987), Kalaimamani Award (Tamil Nadu) Nandi and Golden Nandi (Andhra Pradesh) besides nine National film awards and Filmfare trophies.
"My father touched so many hearts and lives though his films. He inspired the common man. His death is a terrible loss not only to our family but the entire film industry," said Pushpa Kandasamy, daughter of the filmmaker.
Balachander is survived by his wife, son and daughter. His other son, Kailasam died on August 15 this year.
Beginning his life as a teacher, he became a superintendent in the Accountant General's office, and entered Tamil filmdom by writing dialogue for MGR's movie 'Dheiva Thaai'.
Even while working in the AG's office, he staged several dramas. His successful play 'Server Sundaram' was later made into a Tamil film in 1964, which was directed by Krishnan Panju and produced by AVM.
When satellite television came to occupy a sizable entertainment space among audience in early 1990s, he was quick to recognise its importance. He produced several television mega serials including 'Rail Sneham' and 'Kai Alavu Manasu'. Recently, he acted in 'Rettaisuzhi' which was produced by film director Shankar.