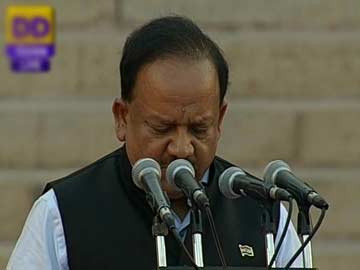 Harsh Vardhan, senior BJP leader from Delhi, has been been given charge of the Health and Family Welfare Ministry in the Narendra Modi-led government.
As a senior BJP leader, Dr Vardhan already wears several hats. He was the party's chief ministerial candidate in Delhi in the assembly polls held in December. He heads the BJP's Delhi unit. And when his party bosses were scouting around for a candidate to challenge union minister Kapil Sibal from his Chandni Chowk stronghold, they didn't have look afar. They zeroed in on the ENT specialist.
A five term MLA, Dr Vardhan, 59, not only won from Chandni Chowk comfortably, marking his debut in the Lok Sabha, he relegated Mr Sibal to the third position, behind Ashutosh of the Aam Aadmi Party, or the AAP.
When the BJP, led by party veteran Madan Lal Khurana, was swept to power in Delhi in 1993, Dr Vardhan was appointed as the health minister. He soon made his mark with his work, and launched the Pulse Polio Programme. The project was dubbed as one of the few successes of the BJP government, and was replicated in the other states.
A leader known for his integrity and clean image, Dr Vardhan was the BJP's automatic choice for the Delhi chief minister's post after Arvind Kejriwal's AAP, fighting its first electoral battle on the anti-corruption plank, emerged as a strong contender.