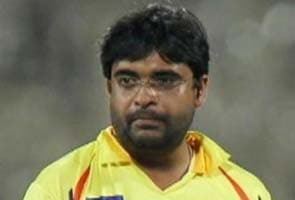 New Delhi:
He was a prominent face in the Chennai Super Kings camp. Many in the CSK camp even saw him as a good luck charm. Thirty-eight-year-old Gurunath Meiyappan had virtually been the face of the former Indian Premier League champions. A man who almost always has a ring-side view of the team's matches.
But after his arrest by the Mumbai Police as part of its investigations into betting and spot-fixing, the script dramatically changed for Gurunath. Suddenly, he was "persona non grata" in the CSK camp. CSK owners India Cements claimed Gurunath was not part of the IPL franchise. Gurunath came under the spotlight after actor Vindu Dara Singh, arrested last month for his alleged links with bookies, had allegedly told the Mumbai Police that he placed bets on Gurunath's behalf. Both Gurunath and Vindu were granted bail by a Mumbai court on Tuesday, June 4.
Sources close to the Chennai camp said, team owner N Srinivasan, who has stepped aside as the president of India's cricket board until a probe into the alleged betting is completed, always wanted to keep a low profile over his controversial dual role and "conflict of interest" was raised in the Supreme Court by former BCCI president and arch-rival in the Tamil Nadu Cricket Association, Dr A C Muthiah, in 2008.
Since then Gurunath has been known as the de facto boss of CSK. In every auction, he was a permanent member of the CSK brains trust that decided 'buying' and 'selling' of players. He even possessed a "team owner" badge to allow him unrestricted access to IPL-related venues.
Not only he is the son-in-law of Srinivasan, the vice-chairman and managing director of India Cements Ltd, which owns Chennai Super Kings, Gurunath is also closely connected to AVM, one of the most prosperous television production houses in south India. He is the son of A V M Balasubramanian, one of the five sons of A V Meiyappan, who established AVM Productions. He is also the managing director of AVM Productions and Entertainment, AVM Studios and AVM Constructions.
Meiyappan has tried his hand at two other sports - motor racing and golf. Many call him 'Prince Gurunath', given his status in various hi-profile engagements. Srinivasan, say insiders, saw him as a good luck mascot, asking him to sit close to the players' dugout along the boundary line. The sudden "disowning" of Gurunath thus raised eyebrows.
Critics feel Gurunath's position in the CSK squad was deliberately "lowered" to protect Srinivasan, whose role in cricket administration in India has been controversial. In 2008, when the IPL was launched, Srinivasan sought BCCI sanction for his company India Cements, to bid for the Chennai franchise. BCCI rules prohibit its officials from any such commercial activities. But an exception was made for the first and last time in Srinivasan's case.
In 2009, when Srinivasan became BCCI secretary, he named Gurunath as CSK's team principal. Srinivasan went on to become BCCI president in 2011, continuing to wear two hats.
The 'conflict of interest' that the BCCI boss had so doggedly flicked till now has come to hit the Srinivasan family. Can CSK handle this 'doosra'?