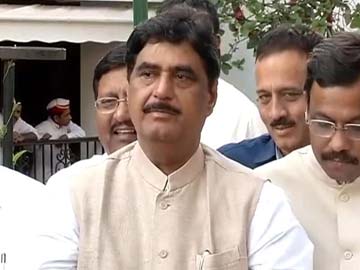 New Delhi:
Gopinath Munde, union rural development minister, who died this morning of a heart attack after a road accident in Delhi, was one of the BJP's top leaders in Maharashtra, and was seen as a front runner for Chief Minister in state assembly elections to be held this year.
Early on Tuesday morning he was on his way to Delhi's Indira Gandhi Airport, when another car crashed into his. He had a heart attack after the crash and had "no cardiac activity" when he was brought to hospital, doctors said.
Elected to the Lok Sabha last month and sworn in as a cabinet minister, Mr Munde was on his way to the airport to fly to his constituency, Beed in Maharashtra, to address a celebratory rally. Now, his body will be taken for last rites there.
For his party and family, this is a second tragedy. In 2006, Mr Munde's brother-in-law Pramod Mahajan, a rising star in the BJP, was shot by his brother. He had died 13 days later.
Mr Munde, 64, was sworn in as cabinet Minister for Rural Development, Panchayati Raj, Drinking Water and Sanitation last week, along with the rest of Prime Minister Narendra Modi's cabinet.
He was one of the BJP's top backward caste leaders and the BJP was reportedly actively considering naming him its candidate for the top job in the state.
In Maharashtra BJP politics, Mr Munde was seen as leading a faction that opposed Nitin Gadkari's elevation as party president in 2010. In fact, he had reportedly made up his mind to quit the BJP then and join the Congress, but was persuaded to stay on.
Mr Gadkari was one of the first to reach the hospital this morning.
Mr Munde was elected to the Lok Sabha for his second term from Beed in Maharashtra's Marathwada region last month. In 2009, he was elected the BJP's deputy leader in the Lok Sabha.
He cut his teeth in politics during his stint in the BJP's student wing, the ABVP. It was here that he came in contact with Mr Mahajan and later married his sister.
Mr Munde shot into the limelight in 1994 when he launched a statewide
yatra
to expose the failings of the Sharad Pawar government in Maharashtra.
The
yatra
drew a very good response and elevated him to the status of a front-ranking BJP leader. When the Shiv Sena-BJP alliance was voted to power in Maharashtra in 1995, he became deputy chief minister of the state.
The Maharashtra leader had survived one car accident and two chopper mishaps earlier.
Get Breaking news, live coverage, and Latest News from India and around the world on NDTV.com. Catch all the Live TV action on NDTV 24x7 and NDTV India. Like us on Facebook or follow us on Twitter and Instagram for latest news and live news updates.