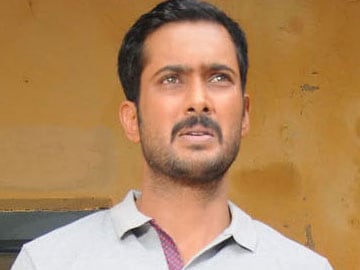 Hyderabad:
Uday Kiran had a meteoric rise in Telugu cinema and his fall was almost equally dramatic, a lonely fall, as downward slides usually are, away from the limelight. That is what perhaps pushed the 33-year-old actor to take the extreme step of allegedly hanging himself at home on Sunday night in Hyderabad. Many of his friends in the industry say he was depressed, unable to cope with no longer being a sought after hero.
His wife Vishita was away attending a friend's birthday party and shortly after his in-laws left home, Uday Kiran reportedly told some close friends on SMS that he was depressed and indicated that he was contemplating suicide. His wife Vishita returned home after finding that he was not answering her phone calls. She reportedly told the police that she had found him hanging from the ceiling in the gym at their house.
He was taken to hospital where doctors declared him brought dead. The police have seized his cell phone and laptop to investigate the causes that may have led to his sudden and tragic end.
Vishita reportedly told the police that they were facing financial problems and her husband had been depressed about not being treated well by the Telugu film industry which once celebrated him as a great hero.
Telugu cinema's "hat-trick hero" as he was called made his cinematic debut with 'Chitram' directed by Teja. Two other box-office hits followed, Nuvvu Nenu ("You and me") and Manasantha Nuvve ("My heart is full of you") to catapult to an iconic romantic hero status. He was among the youngest winners of the Filmfare Best Actor award when he won it in 2001.
He did 19 films, including three in Tamil. He starred in several romantic films including Nee Sneham ("Your Love") and Kalusukovalani ("To Meet You"). He was conscious that he was getting trapped in the charming, romantic hero image and was worried that he was not being offered other kind of roles.
When NDTV met him after he did a Tamil film 'Poi' (Lie) with veteran master Tamil film-maker K. Balachander in 2006, who is considered a Guru by both Kamal Hassan and Rajinikanth, he said he was happy to become a Balachander brand, the mark of quality cinema.
His last film was the Telugu action film Jai Sriram. He had also recently signed a project titled 'Dhil Kabbadi'.
In 2003, the actor was engaged to Chiranjeevi's elder daughter Sushmita but the marriage was called off for unknown reasons. Some say he stopped getting too many film offers after his relations soured with the Chiranjeevi family. In October 2012, Uday married Vishita, who he met when she was still in college. The two had met through Facebook a couple of years ago. She was 10 years younger than him but a family friend says they were happy together and he was very much in love with her.
Though many in the film industry say Uday Kiran was unable to live a life away from the limelight, a close family friend says Uday Kiran had been a very down-to-earth and pleasant young man, who had made it big in the industry with virtually no god father. He was very passionate about fitness and ironically, he ended his life in the gym. The friend says after his mother died suddenly a few years ago of a heat-stroke in Kurukshetra, his relations with his father had strained and they had hardly spoken in the last six years.
Get Breaking news, live coverage, and Latest News from India and around the world on NDTV.com. Catch all the Live TV action on NDTV 24x7 and NDTV India. Like us on Facebook or follow us on Twitter and Instagram for latest news and live news updates.