A 44-year-old monk Yogi Adityanath, often surrounded by gun- toting followers, will be the Chief Minister of India's politically most important state, Uttar Pradesh.
After securing a record majority in UP, the Bharatiya Janata Party has now transformed its win into an expression of complete majoritarianism as Adityanath is a radical along the most delicate fault lines that bedevil UP. It seems that the "
Mukhota
" (mask) is well and truly off.
After the decision was announced, while the ecstatic crowds roared "
Desh Mein Modi, Pradesh Mein Yogi
", less enthused observers wondered what this bodes for Modi's much used slogan "
Sab ka Saath, Sab ka Vikas
".
Adityanath is a five-term MP from Gorakhpur, a science graduate from Garhwal University, but he has absolutely no administrative experience. Modi twice offered him central jobs as Minister of State, Adityanath said a resolute no. He has made no bones about his desire to be UP Chief Minister and has earlier told me that it was his "
Sankalp
" (resolve) to serve his
karambhoomi
( birthplace).
In many ways, Adityanath's anointment is a Modi as Gujarat CM redux moment. Modi was equally dogged in his ambition to be Chief Minister and ensured that a reluctant central BJP was left with hardly a choice but to give in. He also ensured that the BJP cadre forced his announcement as PM candidate in 2014, while some top leaders including LK Advani and Sushma Swaraj were palpably reluctant.
Adityanath as Chief Minister will put the Hindutva agenda centre-stage in UP. This perhaps is the main reason behind his selection as the Sangh Parivar is now chary of any divisions in the large "
Hindu Samaj
" that they have managed to cobble together in UP. This "Hindutva vote" which broke down impregnable caste divisions and secured the BJP a historic mandate which is to be kept together by any means.
What does Adityanath's anointment mean for UP? The signs so far are not reassuring.
Posters were put up in Bareilly
asking Muslims to leave; in Bulandshahr, a group tried to hoist a BJP flag atop a mosque, according to this
report
. During the campaign, Adityanath stuck to his fire-brand dog-whistle script, which the BJP has always conveniently dismissed as "fringe".
In UP, "fringe" is now centre-stage. The BJP did not give a ticket to a single Muslim candidate for the assembly elections; this legislature has the lowest number of Muslims in 25 years. Only 25 Muslims will be in the assembly this time, while they comprise 18 percent of UP's population. Adityanath's ascent will be a tough pill to swallow as he has often made controversial and minority-baiting speeches about "love jihad" and "appeasement".
Adityanath will also be a completely unknown quantity to the UP administration which is hugely lethargic in delivery to the swathes of desperately poor and backward.
Modi had promised
Vikas
(development) to the UP voter. What version of
Vikas
will Adityanath deliver? Will he focus on "
bijli, sadak, paani
" (electricity, roads, water) which UP desperately needs, or will he choose "
mandir
" politics? UP needs jobs and a chance to get out of its hugely backward state. Observers are wary of Adityanath's credentials to deliver development.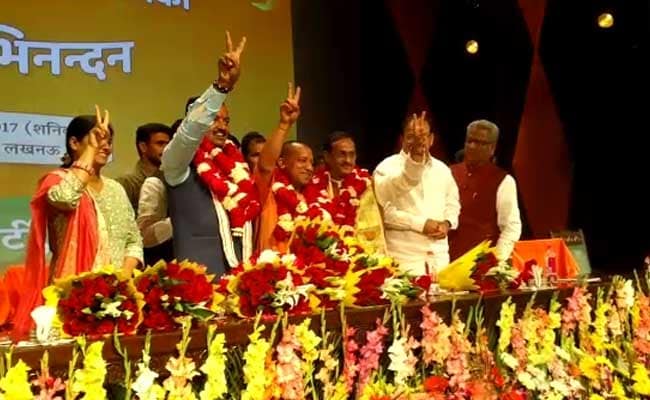 UP was the original "laboratory" for the Sangh's Hindutva agenda much before Gujarat and is still key to a Modi sweep in 2019, so the vote has to be kept intact. While this does explain the choice, it's still intriguing as Adityanath has always been his own man and is not known to get along with the central leadership. Interestingly, this time around, Amit Shah, during the campaign, gave him his own helicopter and for the first time, he campaigned outside his Purvanchal base. Despite this seeming bonhomie, his own outfit, the Hindu Yuva Sena, angry at Adityanath not being announced the presumptive Chief Minister, had put its own candidates in some seats. Adityanath disowned them. On the face of it.
The BJP has done a careful, caste balancing act as well. Adityanath is a Thakur, and his two newly-minted deputies are Keshav Maurya, an OBC, and Lucknow Mayor Dinesh Sharma, a Brahmin. The caste coalition carefully cobbled together with Maurya will be kept intact for the mother of all battles of 2019.
Adityanath's anointment is now full proof of the makeover of the BJP under Modi and Shah, an unapologetic, battle-hardened election fighting machine which takes no prisoners. In a significant way, all the talk of
Vikas
is also off the table, as with two years to go for 2019, and some significant elections to win, the BJP goes back to basics. Brace yourself, turbulence ahead.
(Swati Chaturvedi is an author and a journalist who has worked with The Indian Express, The Statesman and The Hindustan Times.)
Disclaimer: The opinions expressed within this article are the personal opinions of the author. The facts and opinions appearing in the article do not reflect the views of NDTV and NDTV does not assume any responsibility or liability for the same.