It's taken almost 70 years, but Jammu and Kashmir has for the first time a woman as Chief Minister. "This is a big day for all of us - seeing Mehbooba Mufti, a Kashmiri woman, at the helm", declares the PDP's Nayeema Ahmad Mahjoor, chair of the state Women's Commission. "She has created political space for women in a traditional society where in spite of the high literacy rate, women still feel suffocated in expressing themselves."
As yet, very few women have ventured into that political space in Kashmir. Women probably have higher status in the Kashmir Valley - and greater educational opportunities - than in much of India. But politics remains overwhelmingly a male preserve, more so than in Delhi or Lucknow or Chennai or Kolkata. The two prominent exceptions in recent decades have been members of the Valley's twin, rival, political families.
Begum Abdullah, Sheikh Abdullah's wife, served two terms in the Lok Sabha - and while she was much more than a Rabri Devi-style stand-in, she was clearly contesting as a proxy for her husband. He had been Prime Minister of Jammu and Kashmir (the post was redesignated as Chief Minister in 1965) for five years, but then for the best part of 20 years was either jailed, held under house arrest or excluded from his home state.
Mehbooba Mufti has also been elected twice to the Lok Sabha. She has served as an opposition leader (in the days before she and her father broke from the Congress to form the PDP) in the state assembly. She has also succeeded in the challenging balancing act of being a divorcee and bringing-up two daughters while forging a career in politics.
She is the main architect of the remarkable rise of the PDP and much more than simply Mufti Mohammad Sayeed's daughter. All the same, she owes her rise to power to being part of a political dynasty.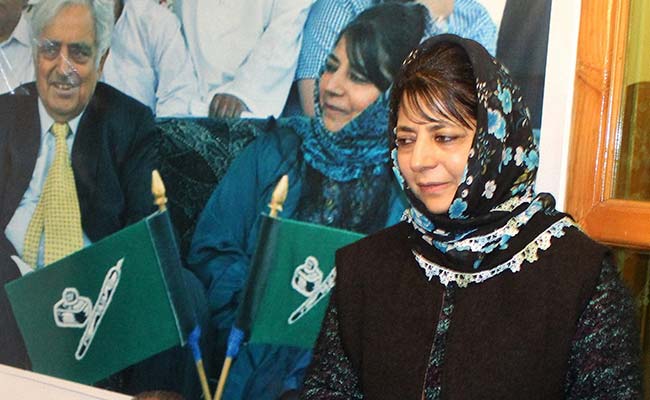 At both national and state level, India has a tolerance of dynastic politics which, if not unique among the world's major democracies (think of Bush and Clinton), still feels deeply anti-meritocratic. Certainly, public life in Jammu and Kashmir, decades after the end of hereditary princely rule, seems still to be about inherited status.
Three generations of the Abdullah family have served as Chief Minister. In the PDP, as we've seen, the Muftis hold sway. But it's a wider phenomenon. So if you add to Mehbooba Mufti and Omar Abdullah two others who have inherited their political authority - the Hurriyat's Mirwaiz Umar Farooq and Sajjad Lone of the People's Conference - then four key players in the future of the Kashmir Valley are dynastic.
In its early years, the Kashmiri nationalist movement took a strikingly progressive stand on women's rights. Sheikh Abdullah's communist-tinged "New Kashmir" programme of 1944 promised equal rights to women, including equal wages, the right to enter trades and professions, to own property and to consent to marriage.
In 1946, when many of the leaders of Sheikh Abdullah's National Conference were either jailed or forced out of the state during an agitation against princely rule, women activists rose to prominence. Late the following year, as invaders from Pakistan advanced, a Women's Self Defence Corps was set up alongside a men's militia to help protect Srinagar. While the women did not see active service, they were trained in the use of rifles and grenades.
This brief moment of women's empowerment later found expression in female education in Kashmir - several of the veterans of the women's militia, above all Mahmuda Ahmed Ali Shah, Freda Bedi and Krishna Misri, helped to establish and run the government women's college in Srinagar.
Once in power, Sheikh Abdullah, both in his political and personal conduct, failed to live up to the feminist ideals of his own policy programme. In recent years, the separatists have been no more successful than constitutional parties in developing women leaders - with the possible exception of Asiya Andrabi, whose "Daughters of the Faith" are on the hardline fringe of the anti-India movement.
While civil society has provided space for women to come to the fore, notably Parveena Ahangar representing the parents of those Kashmiris who have disappeared during the conflict, politics has remained deeply patriarchal.
Among the many challenges Mehbooba Mufti faces as Chief Minister is to ease the male dominance of state politics, so that women can achieve more prominence - even those who don't come from Kashmir's dynasties.
(Andrew Whitehead, a former BBC Delhi correspondent, is an honorary professor at the University of Nottingham and at Queen Mary, University of London.)
Disclaimer: The opinions expressed within this article are the personal opinions of the author. The facts and opinions appearing in the article do not reflect the views of NDTV and NDTV does not assume any responsibility or liability for the same.
Get the latest election news, live updates and election schedule for Lok Sabha Elections 2019 on ndtv.com/elections. Like us on Facebook or follow us on Twitter and Instagram for updates from each of the 543 parliamentary seats for the 2019 Indian general elections.