For three weeks ending last weekend in Texas, Saudi Crown Prince Mohammed bin Salman was the most celebrated foreign leader to visit the U.S. since China's Deng Xiaoping almost 40 years ago.
MBS, as he's called, was embraced by the administration of President Donald Trump. He saw former President Bill Clinton, leading tech executives, entertainment stars, titans of Wall Street, the foreign policy establishment and prominent journalists.
In a public relations triumph, the 32-year-old prince was greeted as a combination of rock star and Winston Churchill.
So let's pause for a reality check.
"MBS is the epitome of complication, a very mixed picture," said Bruce Riedel, a Middle East specialist formerly with the Central Intelligence Agency who advised four presidents over almost three decades. This year he published a book about the history of the U.S.-Saudi relationship, "Kings and Presidents: Saudi Arabia and the United States Since FDR." He's now a senior scholar at the Brookings Institution.
QuickTake Saudi Arabia's Strains
Riedel appreciates both the importance and the limitations of this relationship. He knows MBS and considers him a genuine reformer determined to transform and diversify the fossil-fuel-reliant economy and modernize Saudi society by giving women more rights.
But Riedel also retains some skepticism. He's not impressed by the Trump administration's plan to make Saudi Arabia work with Israel to thwart Iran. That notion was framed as the centerpiece of a Mideast policy by Jared Kushner, the president's son-in-law and a geopolitical rookie, who formed a close relationship with MBS.
MBS told the Atlantic's Jeffrey Goldberg that he supports an Israeli state alongside a Palestinian one, a welcome break with past Arab rhetoric. But Riedel is dismissive of the prince's push, as reported in the New Yorker, to force an Israel-supported accord on the Palestinians.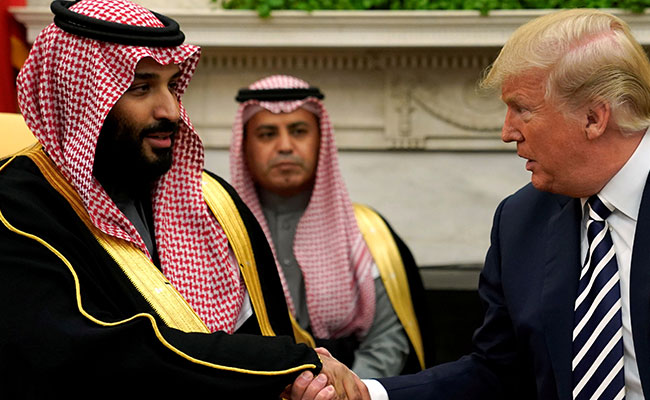 "The Saudis, in particular MBS, have been burned by Mr. Kushner," Riedel said. With the presidential son-in-law now sidetracked by investigations and the lack of a high-level security clearance, the former CIA analyst expects Defense Secretary James Mattis and Secretary of State-designate Mike Pompeo to craft a more sophisticated approach.
He said he admires the crown prince's energy, intelligence and keen sense of public relations.
"He clearly understands the importance of a good press," Riedel said.
Yet he also noted that the prince is inexperienced and can display a reckless arrogance, most egregiously in waging a brutal war in Yemen to block Iranian influence. It's costing at least $3 billion to $5 billion a month with no end in sight and, Riedel noted, creating "one of the worst humanitarian disasters of our lifetime."
His solution, which he doubts MBS is wise enough to adopt, echoes the suggestion attributed to the late Vermont Senator George Aiken in 1966 for ending the Vietnam War: "Declare victory and get out."
Riedel also frets about the staying power of the prince's domestic reforms, especially if his ailing, 82-year-old father, King Salman bin Abdulaziz, is forced by ill health to surrender the throne.
"He's successful because daddy is behind him" Riedel said of the prince. "He needs more time."
Some U.S. business leaders were taken by the young Saudi leader's charm and confidence as he sought investments in the kingdom. But the challenges are daunting. He has seized power, with top rivals under house arrest unreachable even by former top American officials they worked with, and Wahhabi religious fundamentalists remain a powerful force.
"Saudi Arabia cannot abandon Wahhabism and survive in its current form," Riedel said, noting that the 11 most popular Twitter handles in the kingdom are those of conservative clerics.
For the Saudi modernization plan to work, Riedel said MBS must find a way to trim subsidized salaries and benefits in the face of income inequality and a restless and largely jobless youth population. He'll also have to sustain one of the world's largest military budgets, appease the conservative clerics and operate within an opaque political system.
I visited Saudi Arabia once, three decades ago, and was stunned to see low-paid foreign workers doing almost everything for the native Saudis. Colleagues say that situation has improved, but not by much.
My tutor on that visit was my colleague and Mideast expert Karen Elliott House, who counseled, "Pessimism usually pays when it comes to the Middle East."
This column does not necessarily reflect the opinion of the editorial board or Bloomberg LP and its owners.
Albert R. Hunt is a Bloomberg View columnist. He was the executive editor of Bloomberg News, before which he was a reporter, bureau chief and executive Washington editor at the Wall Street Journal.
Disclaimer: The opinions expressed within this article are the personal opinions of the author. The facts and opinions appearing in the article do not reflect the views of NDTV and NDTV does not assume any responsibility or liability for the same.
(This story has not been edited by NDTV staff and is auto-generated from a syndicated feed.)