On Monday night in Lahore, soon after Hafiz Saeed was placed under "preventive detention" at his Jamaat-ud-Dawa charity office, he called a press conference and accused Narendra Modi and Donald Trump of putting pressure on the Pakistan government to take action against him, then drove off home in his own car. That was when his house was declared a "sub-jail."
But the mastermind of the 2008 Mumbai attacks - and the leader of the banned Lashkar-e-Taiba or LeT, after which he created the JuD as a cover - was not the slightest repentant. Tweeting under his own name @AmeerJamatDawah, Saeed said:
If we are banned for raising voice for Kashmir, then we don't care about any such ban or restrictions. #OurcrimeKashmir

— Hafiz Muhammad Saeed (@AmeerJamatDawah) January 30, 2017
And again:
India and enemies of Pakistan are against CPEC and stability of Pakistan. They consider us a hurdle #OurcrimeKashmir

— Hafiz Muhammad Saeed (@AmeerJamatDawah) January 30, 2017
In one stroke, Hafiz Saeed was trying to incite public support against the Pakistani government's move to confine him, in the name of Kashmir. Second, by putting China front and centre, he was warning Pakistan's establishment (read, the Army and ISI, which has kept him afloat all these years) that an international conspiracy was being waged by the US and India against it and its "iron brothers," the Chinese.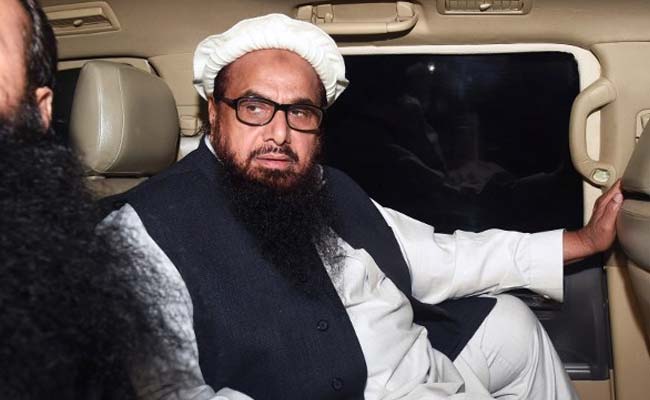 For the time being, though, nobody seems to be listening to Hafiz Saeed's rants. Fact is, the so-called house arrest could not have taken place without the acquiescence of the ISI chief Naveed Mukhtar and army chief Qamar Javed Bajwa, both recently appointed by Prime Minister Nawaz Sharif, even if it was initiated by his own government.
For the time being, at least, it seems that Nawaz Sharif and his army and ISI are on the same page - a victory for the Pakistan Prime Minister in these unsettled times. The "watchlist" means that Hafiz Saeed and the JuD's assets have been frozen, their passports and arms licences cancelled in accordance with the UN resolution 1267.
Certainly, Nawaz Sharif must have warned his security establishment to lie low in the face of a rampaging US President. As Donald Trump disrupts decades-old policies by banning foreign workers and refugees from seven Muslim-majority countries and threatens to add Pakistan's name to a list for "extreme vetting," Sharif is said to have suggested that this was a good time to shut up Hafiz Saeed, even if it was in the comfort of his own home.
Certainly, the Indian government is watching and waiting to see which way the wind turns. For the record, spokesperson Vikas Swarup said, "Exercises such as yesterday's orders against Hafiz Saeed and others have been carried out by Pakistan in the past also. Only a credible crackdown on the mastermind of the Mumbai terrorist attack and terrorist organisations involved in cross-border terrorism would be proof of Pakistan's sincerity."
So why has the former Lashkar chief been locked up for six months?
The most obvious answer is that the US president is calling in the $10 million bounty on Saeed's head, awarded in 2012, because 12 US citizens were also killed in the Mumbai attacks. The point is that this bounty was put in place by the previous Obama administration, which refused to follow through the 2011 killing of Osama bin Laden because it needed the Pakistanis too much to purportedly stabilise Afghanistan.
As Vikas Swarup pointed out, Hafiz Saeed was similarly incarcerated once before, in 2008, but let off soon enough because he challenged the courts that there was no real evidence on his involvement in the Mumbai terror attack.
In the wake of Trump's deeply disruptive order on the weekend, it seems that Islamabad has finally decided to pay heed to the advice of its ambassador in the US, Jalil Abbas Jilani. It seems Jilani was
told
by US authorities last month that the matter of the JuD's financial activities were raised in the Asia-Pacific Group on Money Laundering (APG), a 41-member international organisation which closely follows money-laundering activities and its links with terrorism.
In Rawalpindi, the spokesperson of Pakistan's intelligence agencies Maj-Gen Asif Ghafoor said the house arrest was a "policy decision that the state took in national interest."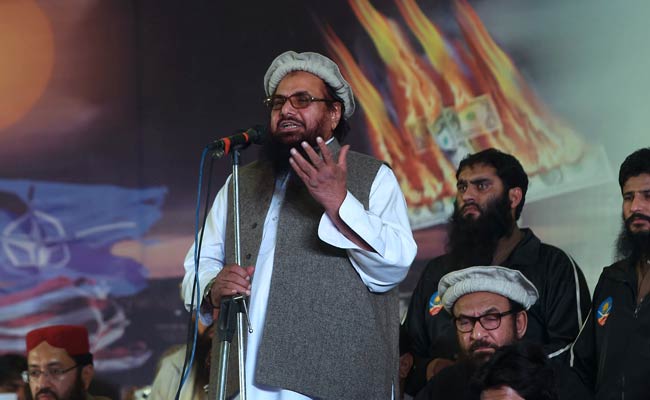 If Pakistan did not address the concerns of the international community on Hafiz Saeed, Jilani was told, it could be blacklisted by the International Cooperative Review Group. If that happened Pakistani would have to make a request to global financial institutions like the World Bank and the IMF each time it wanted to make an international transaction.
The US authorities gave Pakistan a deadline: January 31. Pakistan Foreign Secretary Aizaz Chaudhry is believed to have had two meetings in this regard with Finance Minister Ishaq Dar and National Security Advisor Lt Gen. Nasir Janjua.
There is a third purported reason as to why Pakistan has made this move: China. The noted Pakistani journalist Hamid Mir referred to China's purported involvement, saying that China put pressure on the Pakistanis to arrest Hafiz Saeed
Mir confirms an earlier
story
in which Foreign Secretary Chaudhry is said to have told the security establishment that none other than the Chinese had repeatedly said that it was becoming problematic for them to defend terrorists such as Hafiz Saeed and Masood Azhar. Remember that the Chinese vetoed a UNSC move to indict Azhar in December, after blocking it for several months, causing an uproar in several world capitals.
As for the Chinese, aiming to become World Number One - they admittedly realize it will take them a long time to close the gap with the US - the reason they want to stay out of the limelight, along with their client state Pakistan, is because they don't want any criticism of the China-Pakistan Economic Corridor (CPEC) in which they have invested at least $42 billion.
The CPEC will cross through the eastern part of Balochistan - already the Baloch are asking what they will get out of it. The Pakistani establishment wont hesitate to put down the hint of a simmer in the Baloch heartland with a heavy hand - they've done it before when former president Pervez Musharraf ordered the killing of Baloch leader Akbar Bugti.
In an article in China's
Global Times
, Mei Xinyu talked of preventing risk to China's One Belt One Road (OBOR) by Islamic extremists. "As a country pursuing a policy of non-interference in the internal affairs of other countries, China has no obligations to get them out of the social upheavals. What China can do is to create a favorable environment for their peaceful development through equal trade after they walk out of turbulence. When promoting OBOR, China should fully consider risk returns, and try to maximize returns while minimizing risk," she said.
China's motivation behind OBOR is clear - trade and the extraction of natural resources which feeds and develops the home country. Minimising the risk of Islamic extremism in Pakistan would mean pressuring the Pakistani establishment to shut down terrorist masterminds like Hafiz Saeed and Masood Azhar.
So is Pakistan turning over a new leaf? Certainly, Prime Minister Nawaz Sharif deserves a pat on his back for using any lever that he can get hold of, including that of international disapproval, to claw back some of the power that should rightly belong to the civilian government, but has been hijacked by his security establishment.
Question is, how long will this last? Will the JuD chief simply shut down his alleged charity organisation and take a new name? Will Pakistan's establishment simply take a call after a few months that the US still needs it too much to stabilise Afghanistan and return to its old ways of running with the hare and hunting with the hound? Will Trump allow the Pakistanis to have the upper hand by cutting down its troops from Afghanistan and winding down? Or will he add Pakistan to the list of Muslim-majority countries banned from entering the US?
For Prime Minister Modi, the Hafiz Saeed arrest is a major boost. It underlines his determination not to pussy-foot with a country that allows anti-India terrorists to live inside its borders.
(Jyoti Malhotra has been a journalist for several years and retains an especial passion for dialogue and debate across South Asia.)
Disclaimer: The opinions expressed within this article are the personal opinions of the author. The facts and opinions appearing in the article do not reflect the views of NDTV and NDTV does not assume any responsibility or liability for the same.