Between 7 and 9 am yesterday, I was the only politician in Bumla village, Bhiwani, Haryana. I was not a politician, actually, I was a guest, a visitor and a pilgrim. I was in the village of Ram Kishan Grewal, the immensely proud and distraught soldier who committed suicide anguished at the One Rank One Pension (OROP) mess that has been created.

I had driven several hours to get to Bumla. The distance from Delhi is only 125 km, but a combination of dense fog and not knowing the roads made my journey longer and consumed most of the night. Yet, I was glad I went. The dignity of Grewal's family - his wife, five sons and two daughters, the collective grief of the village and the local community was very moving.

For two hours, I chatted with the family, particularly three of the old soldier's sons. I discovered their father was a local icon. An upright soldier who retired from the army and came back to serve his village and community. He was a much loved and respected sarpanch. He had won medals for India in the army. In his village, he worked tirelessly for sanitation and water projects, building his corner of India. Keeping to himself, happy in his little world.

Till he felt his government and the system had betrayed him.

The previous day, the drama had played out in Delhi and a panicky union government and Delhi Police had arrested opposition politicians and, worse, beaten up grieving family members of the soldier who had taken his life. The family and the community in Bumla were upset at the manhandling and the rough treatment of innocent people who were stunned by the unexpected loss of a beloved father and friend.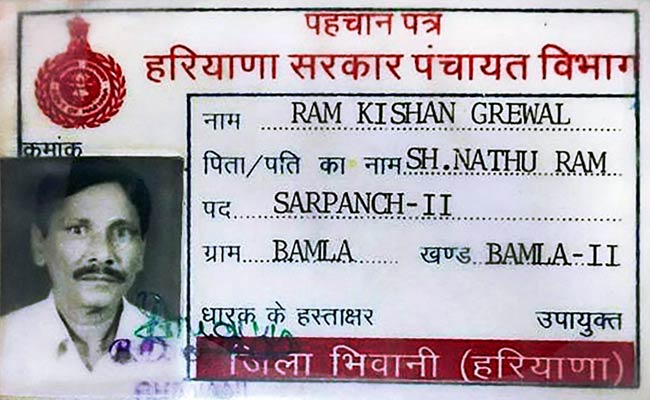 They were shocked when General Foot-in-Mouth - the BJP-led government's most insensitive minister who puts his foot into his mouth at least once every two months - dismissed the suicide by questioning the mental balance and sanity of Grewal. It was this attitude that hurt. It was this that prompted Mamata Banerjee to send me to Delhi late on the evening of November 2 - not to do a round of photo-ops, but to travel to the family and be with them in their hour of need.
After 9 am, as preparations for the funeral began, the media throng and the other political parties began to arrive. I moved to the background. We were only there to pay our tribute to a gallant soldier and his gallant family.
Some over-enthusiastic people jostled and denied the family its moment of privacy. To its credit, the media, for all its Peepli Live reputation, maintained decorum and did not disturb the family as the funeral procession proceeded. It was the first time I was at a funeral in rural Haryana. I've attended funerals in Bengal. There were commonalities, but also some very different rituals, reflecting the unity in diversity of our great country.
I don't know whether Ram Kishan Grewal was a "hero" or a "martyr" - I know those words are being bandied about and argued over by others. Good for them. What I do know is he had a sense of duty, of purpose and of mission. He lived and died for others. He served in the army to protect a billion countrymen most of whom he would never know nor meet. He returned to his village to work on the basics - cleanliness, hygiene, water conservation - because he wanted to continue to give back to society.
When such a man is forced into committing suicide because he feels he has been cheated and his trust has been violated, it implicates us all. I can blame the government and ruling party - but I don't want to politicise this beyond a point. Ram Kishan Grewal's death is not about politics. It is about our inner humanity. And it is about the humanity and humanness I experienced among the plucky and proud people of Bumla.
Derek O'Brien is leader, parliamentary party Trinamool Congress (RS), and Chief National spokesperson of the party.
Disclaimer: The opinions expressed within this article are the personal opinions of the author. The facts and opinions appearing in the article do not reflect the views of NDTV and NDTV does not assume any responsibility or liability for the same.
Election Results for Lok Sabha Election 2019 will be out on May 23. Get the latest election news and live updates on ndtv.com/elections. Catch all the action on NDTV Live. Like us on Facebook or follow us on Twitter and Instagram for news updates from each of the 543 parliamentary seats for the election 2019