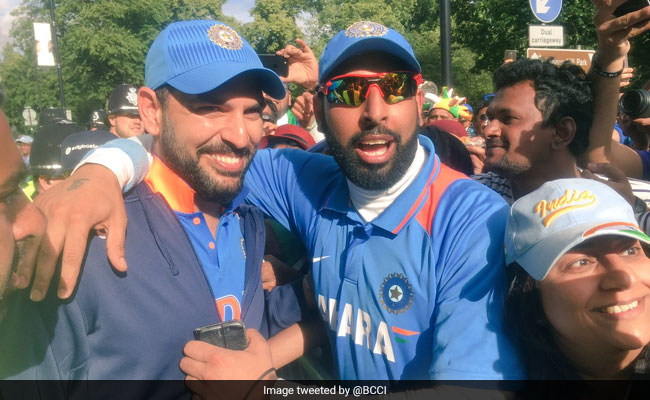 India's victory against Bangladesh in the semi-finals of the ICC Champions Trophy yesterday wasn't the only reason it was a special day for Yuvraj Singh - for it was also the cricketer's 300th ODI. Yuvraj's game yesterday made him only the fifth Indian cricketer to feature in 300 One-day International matches for the country. And to add to his memorable day, off the field, there was a very special fan waiting to click a picture with him - a fan who looked just like him.
A tweet posted yesterday by the BCCI shows Yuvraj Singh posing with his doppelganger:
.@YUVSTRONG12 X 2 pic.twitter.com/VbC4sWETUk

- BCCI (@BCCI) June 15, 2017
Captioned 'YUVSTRONG12 X 2', the pic shows Yuvraj posing with a fan who also wore the Indian jersey and sported a beard. The resemblance between the two is uncanny.
Since being shared online, the tweet has collected over 8,000 'likes' and over 1,000 retweets. However, it seems like Yuvraj feels that there's nobody quite like him - and we agree. Replying to the BCCI's tweet, he said:
No chance

- yuvraj singh (@YUVSTRONG12) June 15, 2017
Here's how others reacted to Yuvraj Singh posing with his lookalike:
Hahahahahahaha

- Robin Aiyuda Uthappa (@robbieuthappa) June 15, 2017
Is this a wax statue ?

- Mahesh krishna (@gopikrishnachu1) June 16, 2017
Which one is real !!!!!!

- Kuldeep Choudhary (@kuldeep_edu) June 16, 2017
Who is Yuvi? Left or right?

- Venkataramana mula (@Reach_venkatm) June 16, 2017
Confused? Let us know what you think of the pic using the comments section below.Click for more
trending news