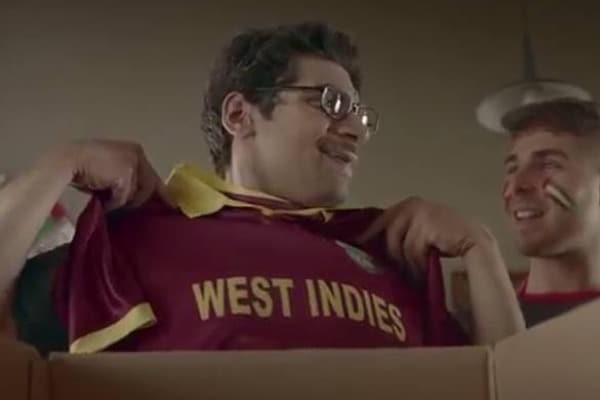 After the first #MaukaMauka ad hit the internet like a storm in a giant tea cup, India's World Cup matches have ceased to be just about winning or losing. Every match now comes with the added expectation of another installation of this brilliant, mock-jingoistic series.
India's had a dream run till now at WC 2015, winning matches against Pakistan, South Africa and now UAE, and it should be safe to say that the momentum created by this series probably helped a teeny bit. Every match is followed by the next ad in the series.
The latest to join the ranks is the India vs West Indies match, which sadly does not seem to have the spark that the others in the series do. It still has over one million views and counting:
Now watch the spoof made by TheViralFeverVideos and posted on its YouTube Channel, TVFRecycleBin, which has over two lakh views already.
Whatever be your reaction to the latest ad, it doesn't seem like the popularity of this series is going to die out anytime soon. Tweets, status messages and jokes about #WontGiveItBack or #MaukaMauka have flooded timelines and inboxes.
Former cricketer VVS Laxman approves of the series wholeheartedly, just like the rest of the country, and had this to say on Twitter: (The) 'Mauka Mauka campaign.. is one of the best I have seen for a long time. Timing is just superb.' And so it is.
Remember when India would win a match and everyone would go out to set off crackers? Now, once the match is over, people stay glued to their TVs just to catch the ad for the next match. Fantastic, and rather weird you have to admit.
We're definitely not used to people looking forward to an ad during the cricket World Cup! We don't know who's taking home the trophy, but according to Twitter it's clear who the winner is:
What's the procedure to stop yourself from humming mauka mauka?

- M. (@Choco_La_Ti_Da) March 1, 2015
I am more excited for #MaukaMauka ads these days than the official match

- Jaydeep Rasal (@RasalJaydeep) March 1, 2015
There's now an entire bunch of people like me who look forward to India playing just to see the next Mauka Mauka ad by @StarSportslndia

- Priyal (@priyal) February 28, 2015
Okay also lets talk about #MaukaMauka. Simple insight. Brilliant work. Maximum cheers. Thats what we call advertising.

- karan (@thatdarkcoffee) February 23, 2015
what will be the climax of mauka mauka ad.LOL !!!India should win this world cup and im dying to see final version of this ad. #MaukaMauka

- Neha (@Ashiquiphirse) February 22, 2015
Hahaha, Star Sports' Mauka Mauka ad is the real winner of #CWC15

- Diogenes (@diogeneb) February 22, 2015
Nowadays people are more excited about the new 'mauka' ads than the match itself. #PakvsZim

- Sagar Satpute (@iamsgr007) March 1, 2015
India has won the Advertising World Cup already. That #MaukaMauka campaign deserves endless appreciation. Keeps getting better & better!

- Bissmah Mehmud (@bissmahmehmud) February 22, 2015