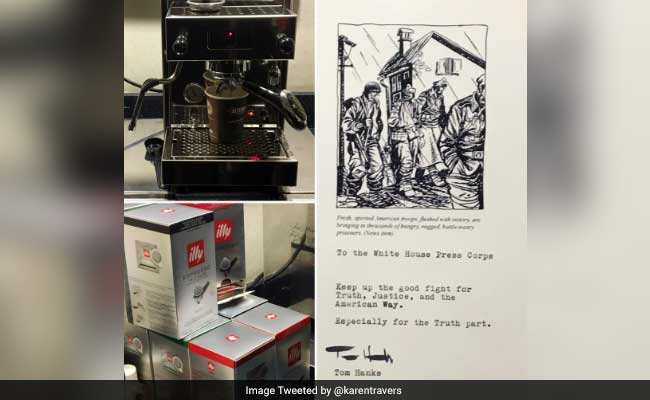 US actor Tom Hanks gave White House journalists a new espresso machine Thursday, calling their caffeine-addled plight to cover the news a fight for "truth, justice, and the American way." The actor's gift comes amid President Donald Trump's feud with the US media, which he frequently blasts with insults and accuses of bias. Hanks has previously brought the White House press corps espresso machines - once under George W Bush when the actor learned the journalists had no such apparatus and again in 2010 under Barack Obama when he learned the first had worn out.
Thankx to @tomhanks for the new coffee machine for the schlubs in the WH press room. pic.twitter.com/DHVhowzd3L

- Steve Holland (@steveholland1) March 2, 2017
But this time, he left the press corps with a special note of encouragement including an illustration at the top of American troops soldiering on.
"To the White House Press Corps," the note said. "Keep up the good fight for truth, justice, and the American way. Especially for the truth part."
Here is the note @tomhanks sent with the coffee machine pic.twitter.com/vFo4m1OXxf

- Steve Holland (@steveholland1) March 2, 2017
Since his campaign days, Trump has repeatedly slammed the media, calling it "dishonest" and accusing major news outlets of fabricating sources and stories, while branding journalists "the enemy of the people."
Thank you @tomhanks for the new espresso maker! From all of us at @whcapic.twitter.com/n1sXW1YoS9

- John Roberts (@johnrobertsFox) March 2, 2017
Not only a great actor...but a man who understands the importance of caffeine at these exhausting times.... https://t.co/ovVyuTO4FM

- Jon Sopel (@BBCJonSopel) March 2, 2017
Trump announced Saturday he will skip this year's annual White House Correspondents Association Dinner, a longstanding tradition that began in 1921 in which journalists invite the US president for a light-hearted roast.
The last time a president missed the event was in 1981, when Ronald Reagan was recovering after being shot in an assassination attempt. Reagan, however, phoned in with friendly remarks.
Richard Nixon, who despised the media, skipped the event in 1972.