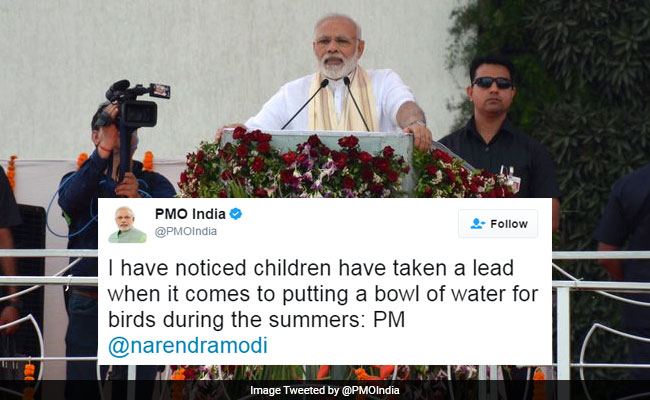 NEW DELHI:
In the 31st edition of 'Mann Ki Baat', Prime Minister Narendra Modi addressed the nation on a number of topics and issues including VIP culture in our country, bridging the gap between rich and poor, and also encouraging students to try new things during their summer vacations. However, one piece of advice that has really touched a chord with people on social media is PM Modi's suggestion on putting out water for birds and animals this summer. With temperatures soaring across the country, PM Modi suggested children take up this initiative as it will not only help the creatures but also instill empathy in children.
Temperatures are rising. No wonder this time when I asked for suggestions for #MannKiBaat, people wrote about the summers: PM

- PMO India (@PMOIndia) April 30, 2017
I have noticed children have taken a lead when it comes to putting a bowl of water for birds during the summers: PM @narendramodipic.twitter.com/ccCCkGM7Wo

- PMO India (@PMOIndia) April 30, 2017
PM Modi also suggested everyone offer water to each person who visits one's home.
During summers, many people come to our homes...postmen, milkmen, vegetable sellers...always offer them water (particularly in summers) :PM

- PMO India (@PMOIndia) April 30, 2017
PM Modi's words seem to have really impacted people as many have tweeted about either already following the practice or beginning it in their homes after his words. Among those who have posted about PM Modi's advice is Akshay Kumar. The actor not only tweeted a clip from PM Modi's speech but also posted a video of his daughter feeding milk to stray cats.
Thoughtful gesture by PM @narendramodi asking citizens to give water to birds. #MannKiBaathttps://t.co/9QlLGUvbZC

- Akshay Kumar (@akshaykumar) April 30, 2017
Coincidentally was urging Nitara 2 offer milk to the cat today.The heat spares nobody offer water 2 everyone who visits ur home.Humanity 1st pic.twitter.com/UzEs44IQfR

- Akshay Kumar (@akshaykumar) April 30, 2017
Business tycoon Anand Mahindra and singer Kailash Kher also posted about PM Modi's advice.
You'd never expect to hear a leader in a national address advise small acts of kindness in the summer heat. @PMOIndia redefining leadership

- anand mahindra (@anandmahindra) April 30, 2017
What a thought @narendramodi ji! This summer lets care for those we share our planet with. #MannKiBaathttps://t.co/CtAYdDlH0V God bless

- Kailash Kher (@Kailashkher) April 30, 2017
Several others have been tweeting about PM Modi's advice. Some also shared pictures of their homes.
Thanks to our PM MODIJI for kindness towards birds and animals by giving advice in MANKI BAT to give water birds and animals in summer.

- prabhakar sahu (@prabhak48996140) May 1, 2017
A very Good Idea for Birds Water & Shower. Just cut 5 Litre oil container as shown.
Best from Waste.
#Savewater#birld#humunitypic.twitter.com/lPFFw8qbt3

- Amit kulhade (@Amitkulhade) April 30, 2017
@PMOIndia Appreciate the comment. Even for Domestic animals and Birds Kindly provide some water.

- Adarsh Kumar M (@fran1711) May 1, 2017
Thanks for bringing my hopes back again by thinking about the animals and birds asking us to give water.I salute you.https://t.co/FwPID15fRkpic.twitter.com/GLiNlhnt3P

- Saptaparna Singh (@SinghSaptaparna) April 30, 2017
@narendramodi#ManKiBaat#birds#water#foodforbirds
Have provided provision in all my rooms including kitchen for feeding the birds pic.twitter.com/A8qwZeQiCH

- Shrijit Sreenivasan (@shrijit2005) May 1, 2017
MODI JI,
As u mentioned in Man ki Baat "WE ARE FEEDING BIRDS IN SUMMER WITH WATER AND GRAINS - from 3 years. pic.twitter.com/T53yDswx3K

- Satyabodha J Achar (@Satyabodhaj) April 30, 2017
Many people even replied to Akshay Kumar's tweets:
@akshaykumar@narendramodi My parents always had a water bowl for birds and cows, we have since I was a kid, and they feed all the stray dogs and cows near our home

- Pooja M.Tiwari (@PMTiwariPhD) April 30, 2017
@akshaykumar@narendramodi Nice one
Light
Action camera ohh sorry
Light actions water for birds.
I also apply from today.
Thank @narendramodi@akshaykumar

- Jigar Sitapara (@jigar_sitapara) May 1, 2017
@akshaykumar@narendramodi I always keep two pots at terrace... #MannKiBaat@narendramodi

- sudarshan Chakravort (@sappsudarshan) May 1, 2017
@akshaykumar@LaliteshKushwa3@narendramodi@SoundCloud Am already doing my own little way at my small home.Also kept sm grains 2 feed them pic.twitter.com/EHFvmVo1CB

- Rupesh Doshi (@rjdoshi111) April 30, 2017
Tell us what you think of Prime Minister Narendra Modi's advice in the comments section below.
Click here
for more trending stories