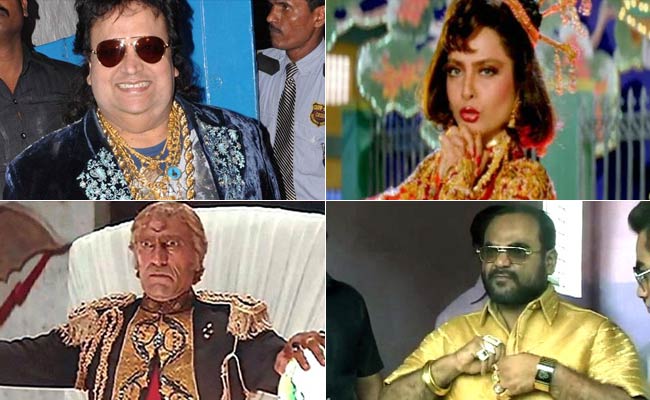 Most international entertainment websites are screaming one headline today: "OMG! Beyonce has the gold Apple Watch." Apple launched the uber-luxe edition of its watch in February, but at a starting price of $10,000, only the very rich can afford to buy it - or will be able to afford to buy it this Friday when it is available in nine countries for mere mortals who are not Beyonce to buy.
The price goes up to a whopping $17,000 so it begs the question, who is going to buy it?
We decided to list out eight likely customers who would want to buy - and could afford to buy - the Apple Gold Watch.
Bappi Da:
Who doesn't know that our favorite Bollywood pop-star Bappi Lahiri absolutely loves gold? Bappi Da is never seen without his flashy gold chains, gold rings and gold bracelets.
Chances are, today - Akshay Tritiya, a day on which Indians traditionally buy gold - would be Bappi Da's ideal Apple watch buying day. Unluckily, he'll have to wait a while.
Honey Singh:
Rapper Yo Yo Honey Singh is never seen without his trademark bling. In almost all his music videos, he wears his favourite gold chain and his gold bracelets. In a reality show, Singh was seen sporting the Giuseppe Zanotti high top sneakers which had gold straps on it. He loves gold so much that he gave shortlisted candidates on his reality show India's Raw Star gold lockets as welcome gifts.
What's more, in an earlier interview he had also said that everything he wears is custom-made.
Rekha:
This Bollywood actress is always festooned with gold jewellery. In a song called '
I love You
' from the movie
Geetanjali
(1993), Rekha is seen wearing red attire with gold head gear, gold around her waist and even her arms. As a courtesan in
Umraao Jaan
(1981), Rekha bedazzled in gold in some of the most memorable songs-'
In Aankhon Ki Masti Mein'
and '
Dil Cheez Kya Hai
.' She also wore kilos of gold in Utsav.
Rekha loves her Kanjeevarams, red lipstick, chunky gold neckpieces and her gold jhumkas. The Apple watch would be the perfect finish.
Usha Uthup:
The popular playback singer, known for her songs like
'One Two Cha Cha Cha'
and
'Darling'
from
Saat Khoon Maaf
, also has eye for gold baubles. While her ornaments are nowhere as showy as Bappi Da's or Rekha's, we won't be surprised if we spot the watch on her wrist.
Maharashtra politician Pankaj Parakh:
On his 45th birthday early last year, Mr Parakh wore a shirt,
made of pure gold
that weighed four kilos and cost Rs 1.30 crores. The Nationalist Congress Party member had said that a team of around 20 select artisans spent 3,200 hours for two months to 'stitch' his shirt. Given his love for gold, we're guessing springing for the Apple watch will be no problem.
'Gold man' Datta Phuge
: The Indian textile magnate made news in 2013 when he bought one of the world's most expensive shirts, made from over 3 kgs of gold and worth $250,000. And it's not just his shirt, Mr Phuge wears chunky gold rings and bracelets too. In an interview to
BBC
, he described gold as his dream. We wonder if Mr Phuge is dreaming of the Apple watch now.
Mogambo:
Remember Amrish Puri as Mogambo in
Mr India
? He wore gold rings on all his fingers and was dressed in a black and gold outfit that made him look like he could easily from the album cover of
The Beatles
' Sgt. Pepper's Lonely Hearts Club Band. Sadly, Mogambo missed the Apple gadget by some decades but how fitting would it have been if he had this watch to do battle with Mr India's watch with? We imagine he'd have this to say:
Mogambo khush hua!
Miley Cyrus:
In 2013, Miley Cyrus completed her 'gangsta' look with a Mohawk and a gold tooth. Last year in February, the popstar was giving away gold-leaf rolling papers with the purchase of her Bangerz tour book at her concert venue in Vancouver. Miley Cyrus can't deny she loves bling. We're surprised she hasn't scored the watch already.