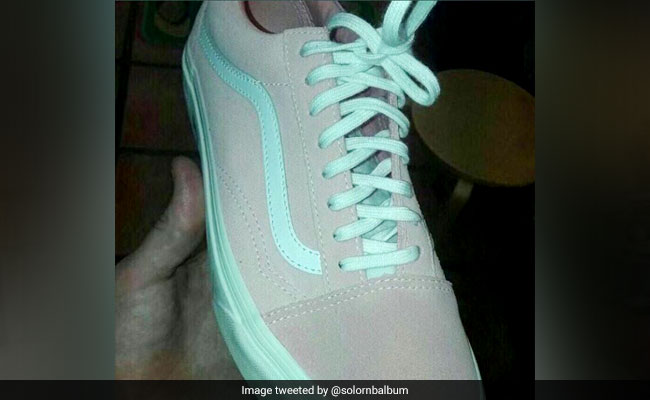 Remember '
The Dress
' from 2015? Yes, the gold-white dress (which was actually black-blue) that wrecked friendships, made serious dents in relationships and polarised the internet. Well, it's back to haunt us. And the 2017 avatar of the dress is a humble shoe that's confusing the heck out of people.
Photos of an ordinary looking sneaker are currently the subject of intense debate on the internet as people can't decide whether the shoe is pink-white or grey-blue.
The photo was originally posted in a private group on Facebook and soon made it to Twitter as the debate escalated.
rt if u see pink and white



fav if u see grey and green mint pic.twitter.com/nS0k557wSp— give ksoo a (@solornbalbum) October 13, 2017
It's clearly gray and mint how can u see pink...

— may - || (@TwentyFour_88) October 13, 2017
I DONT GET HOW YALL SEE PINK AND WHITE I MEAN

— (@oppamilk) October 13, 2017
Its grey and mint how are people seeing pink and white? Oh but wait... is this 'THE' dress disguised as a shoe pic.twitter.com/tEllbGIkbN

— BaekFm (@ExoFuj) October 13, 2017
What are y'all smoking to see pink and white lol

— Richard Ruhr (@MrRichardRuhr) October 13, 2017
I'm trying so hard to see pink and white but I just can't

— PSYCHONEXTDOOR (@MakesHerTweet) October 13, 2017
I can see the hue of pink in the shoe a tad when my brightness is all the way up, but the laces stay green.

— Daniel Cross (@danny__cross) October 14, 2017
And then this sorcery happened
deadass looked at this earlier, saw grey and mint. looked at it again just now and as i stared it slowly transitioned to pink and white???? pic.twitter.com/GpeEcS3h0h

— elle (@hunified) October 13, 2017
Gave up? The correct answer is pink and white. The blue and grey was the result of lighting and possible editing as explained in the tweet below and confirmed by
scientists
too.
Left is the original shoe-Someone edited the picture by adjusting the lighting to a strong turqoise hue. Notice the lighting on the hand pic.twitter.com/m0jXAQee9Y

— Caleb (@FizzleCheeks) October 13, 2017
The much talked-about dress was one of the biggest
moments
on social media in 2015. The colour of a tank top and a pair of slippers prompted a similar debate back in
July
but failed to scale the heights of internet popularity as 'The Dress'.Click for more
trending news