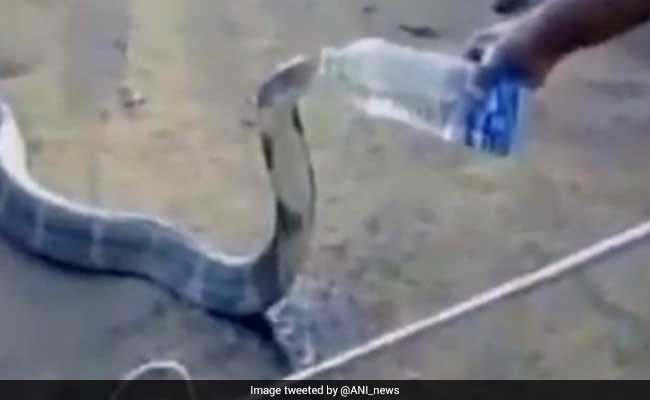 New Delhi:
The world's longest venomous snake, the king cobra, usually tries to avoid confrontation with humans. However, a few days ago, a thirst king cobra found its way to the Kaiga village in Karnataka, presumably in search of water. Karnataka has been hit by drought and suffering from scarcity of water. In an amazing video, a wildlife rescue worker is seen offering the thirsty cobra a drink of water from a bottle - and the snake can be seen lapping it up.
The video of the enormous king cobra drinking water from a bottle has gone viral on social media. The video shows one man holding the snake's tail to prevent it from launching an attack. Even the man holding the water bottle is holding a snake catcher, just in case things take a bad turn. He can then be seen pouring water on the cobra's head in order to cool it down.
According to the
Daily Mail
, the king cobra was later taken to an animal care facility. The rescue workers' actions have earned them praise and appreciation on social media. "Great job," says one user on Twitter. "Salute to the effort there," writes another.
Watch the incredible video below:
#WATCH: Drought-hit villagers in Karnataka's Kaiga made King Cobra drink water from a bottle (March 24th) pic.twitter.com/SVEvg4GUKD

- ANI (@ANI_news) March 30, 2017
What do you think of it? Do let us know using the comments section below.
Click
here for more trending stories.