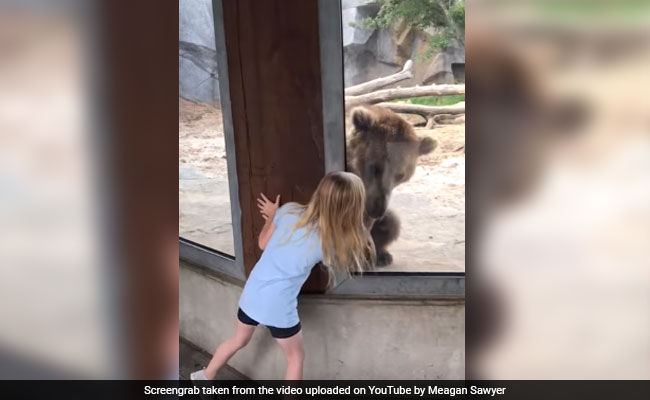 New Delhi:
A sweet little girl just made a furry best friend - by playing peek-a-boo at the zoo. Six-year-old Riley Sawyer stumbled across a lonely grizzly bear at the Riverbanks Zoo in Columbia, South Carolina last month. She decided to hide behind a divider where the big bear was sitting and then playfully poked her head out to one side of the glass, and then the other. The bear surprisingly played along - moving to the left when she did and to the right when she did.
A clip of the sweet interaction, taken by the young girl's mother, Meagan Sawyer, was uploaded to YouTube.
Ms Sawyer told WPDE
that little Riley loves playing peek-a-boo with her eight-month-old sister and just started playing when she saw the animal.
Riley was "amazed" that the bear played along.
"He was like up against the glass, like in the middle. We were playing peek-a-boo...we went to the left, then the right, then the left, then the right," Riley told ABC15.
Reactions to the video, however, have been mixed.
"I know this should make me smile, but it makes me sad to see the bear caged," writes Jenny Li on Twitter.
"I wish I could say, "How cute", but I can't. Seeing majestic animals confined in such small, unnatural settings without companionship or enrichment makes me want to cry," comments Sarah Willoughby.
"Lovely to see the innocence of a child reflected in a lonely animal," tweets Paul Thompson.
"Granted, zoos are not the ideal place for animals but they are a necessary evil…zoos may prove to be the difference between survival and extinction of a species," remarks Jason Mitch on YouTube.
Little Riley, though, can't wait to go back and see her new friend. "I want to play peek-a-boo with him again."
Click
here for more trending stories
.