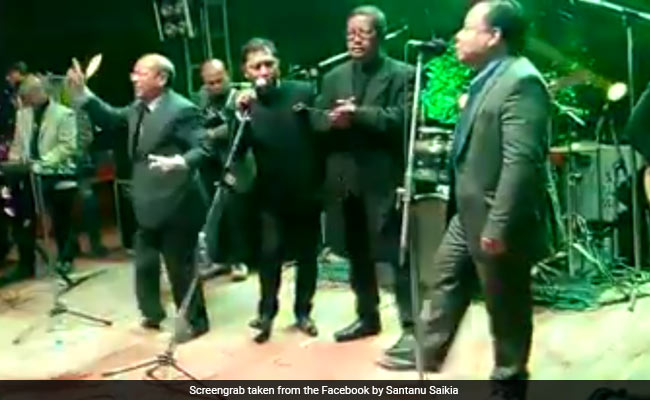 Highlights
Mukul Sangma, Donkupar Roy and Paul Lyngdoh sang The Beatles' 1963 hit
They sang The Beatles' 'All My Loving' at Mr Sangma's daughter's wedding
The video has gone viral on social media
New Delhi:
A video of Meghalaya Chief Minister Mukul Sangma, leader of opposition Dr Donkupar Roy and United Democratic Party's president Paul Lyngdoh singing The Beatles' 1963 hit "All My Loving" has gone viral on social media.
The video comes as a breath of fresh air in today's acrimony-filled political environment, where leaders don't miss an opportunity to take a dig at their ilk. From prime time debates to political rallies politicians across India love to dis their opponents and even their rivals within a party. In this heated political scenario, Mr Sangma, Dr Roy and Mr Lyngdoh grooving to The Beatles was bound to go viral on social media.
The over two-minute video shows Meghalaya's political brass singing and dancing to "All My Loving". The video was reportedly shot at Mr Sangma's eldest daughter's wedding in Shillong.
Shillong has always been known as the rock capital of India and politicians from the state too know their songs. Mr Sangma, Dr Roy and Mr Lyngdoh may not have matching political wavelengths on the Assembly pitch, but they are all in sync and in tune when it comes to The Beatles. Their cover of 'All My Loving' can match that of any professional band in the country.
Hopefully, we get to see the lighter side of other politicians from different parties in the future.
Chief Minister Sangma is known to be a great singer and was reportedly a member of a band in college. In 2015, he enthralled the people of Kolkata when he sang at the inauguration of the Meghalaya House there.
Mr Lyngdoh, a poet as well, is popular for recording many hit songs and continues to be an active member of a band with which he has frequent jam sessions.