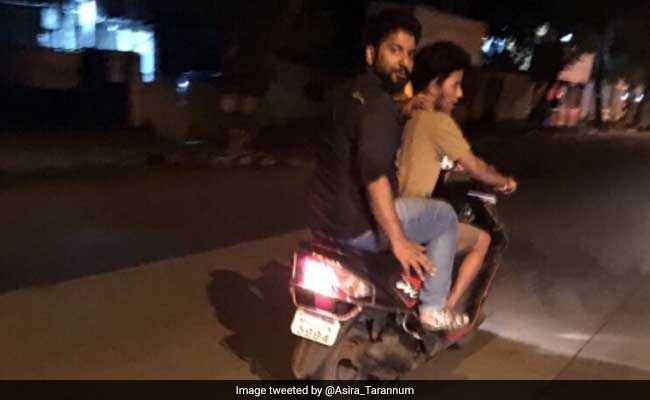 Asira Tarannum, a 25-year-old journalist, says she's impressed with the prompt action taken by Mumbai police after two men who chased her autorickshaw early on Thursday morning in Andheri were arrested. Ms Tarannum had tweeted the Mumbai police a picture of the men riding a scooty.
Ms Tarannum was returning home after midnight on Thursday and had taken an autorickshaw for the short journey, which she says is easily walkable. That's when she noticed two men on a scooter riding dangerously close to her auto. The men were gesturing at her, saying crude things in Hindi and singing songs. Then, she says, they told the driver to stop the auto.
That's when Ms Tarannum got worried.
"I immediately took a picture (of the men on the scooter) and tweeted it. Then I almost dialed a friend's number to ask for help...instead, I dialled 100," Ms Tarannum says.
@MumbaiPolice Alert: two boys on a scooty passing lewd comments and chasing the Rick on Andheri Link Road. pic.twitter.com/wEXo2eX6oL

- Asira (@Asira_Tarannum) August 16, 2017
She says the police officer who responded on the emergency helpline immediately assured her that cops were stationed just ahead of her location. Ms Tarannum says the men only stopped chasing her auto once they spotted the cops and fled.
Ms Tarannum posted the picture once again to Twitter with details about the Honda Dio scooty, tagging the Mumbai police's official Twitter handle, and asking anyone with information about the men to respond.
2 boys on a dio number 5994, chased my rick from Chitrakoot grounds in Andheri to Juhu circle. Anyone who knows these guys (1/2) pic.twitter.com/iDEd4Ztmwe

- Asira (@Asira_Tarannum) August 17, 2017
Anyone who knows these guys or recognises the vehicle please reply with a tag to @MumbaiPolice (2/2) pic.twitter.com/BGvHCP6duz

- Asira (@Asira_Tarannum) August 17, 2017
Ms Tarannum's tweets went viral overnight, with over a thousand retweets.
This morning, Mumbai police tweeted that the men had been caught:
.@Asira_Tarannum reported stalking with a picture of the stalker & his vehicle number Didn't take long for us to hunt down the accused pic.twitter.com/XVAHZ3sILl

- Mumbai Police (@MumbaiPolice) August 18, 2017
An impressed Ms Tarannum says the prompt action is "commendable."
Kudos @MumbaiPolice thank you for the prompt action! Special mention to Daya Nayak sir and team. https://t.co/4mqkF5njls

- Asira (@Asira_Tarannum) August 18, 2017
Ms Tarannum had filed a police report on Thursday evening. "I had heard the cops were prompt, but didn't realise they'd be quite so prompt," she says.
Many on Twitter have appreciated Mumbai Police's quick action and Ms Tarannum for having the courage to report the men and diligently follow up with the cops.
Congratulations for reporting n it gives courage to others to report the crime without hesitation. kudos to Mumbai police for prompt action.

- Mona AdvaniBJP (@MonaBjp) August 18, 2017
Wow ! That was quick ! Thank you for making Mumbai safe for women. You guys are doing a great job

- :) (@Komal_Indian) August 18, 2017
this shd send down a msg,dont panic,try and get info and tell the cops,action will be taken...well dn mum police

- vishaal kejriwal (@vishaalkej) August 18, 2017
"I could have just kept quiet or told the driver to take a different route but my first instinct was to speak out - by tweeting...and do my bit," says Ms Tarannum. "I hope other women will be encouraged to speak up and fight (such harassment)."Click for more
trending news