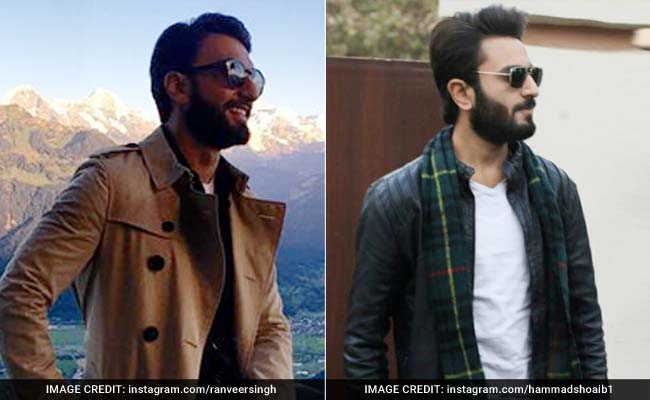 Highlights
Social media thinks Hammad Shoaib looks a lot like actor Ranveer Singh
Mr Shoaib has even posted collages of himself with the actor on Instagram
He would like to be a part of Pakistan's entertainment industry
Move over
Arshad Khan
, another Pakistani man has captured the Internet's fancy now. Islamabad's blue-eyed chaiwalla may have had social media obsessing over him for a while but it seems he's been replaced by Faisalabad resident Hammad Shoaib as the object of online affections. The reason? His supposedly uncanny resemblance to Bollywood heartthrob, actor Ranveer Singh. Mr Shoaib, who has over 7,000 followers on Instagram, has several people telling him just how much he resembles the
Befikre
actor. He has even posted collages of himself with Ranveer and also shared a video of himself dancing to the actor's song.
Prepare to see double, just like all of social media is.
Mr Shoaib, 20, was initially surprised when people began comparing him to the 31-year-old
Bajirao Mastani
actor. "I used to post videos and pictures on Instagram and Facebook. People used to compare me with Ranveer but I never had an idea that people will start comparing me with him this much," he told Images. And while he's more than happy with all the attention coming his way, he needs everyone to know he doesn't style himself to look like Ranveer at all.
"All the people who are saying that I imitate him are totally wrong. I never compared myself with him and I don't imitate him at all. I like his personality because he's one of the biggest stars of Bollywood and totally a power pack," he said on Instagram.
While the Instagrammer has reportedly taken the A Levels examination recently, he also seems to have an inclination towards the entertainment industry. "I always wanted to be a part of Pakistan's entertainment industry and showbiz. I've got some amazing offers from the TV industry and I'm looking forward to working on some good projects. Let's hope for the best," he told Images. (Psst... he's reportedly single too.)
"You so look like Ranveer," says one commenter on Instagram. "Bhai u r a ditto copy of Ranveer Singh (sic)," says another. "Carbon copy," an Instagram user said. "You look exactly like Ranveer," says another, reiterating many others. Mr Shoiab usually replies to such comments saying: "I get that a lot."
Last year, Vancouver-based fitness vlogger
Navpreet Banga
and actor- model
Ssumier S Pasricha
, famous as 'Pammi Aunty' had social media comparing them to actors Priyanka Chopra and Shah Rukh Khan, respectively.
No word yet on what Ranveer Singh has to say about his doppelganger yet. What do you think? Tell us in comments section below.