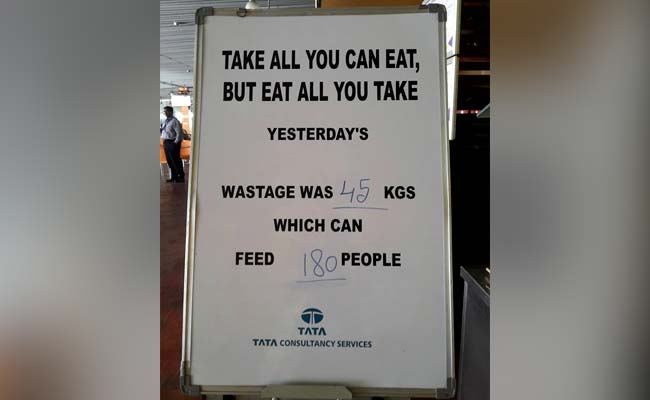 Highlights
Campaign in an IT office canteen gets viral on the Internet
Hard-hitting facts about food wastage displayed on notice board
Indian IT employees generate awareness about food shortage
How many times are we mindful of what we eat - or rather what we don't? An IT giant did something in their Bengaluru office's canteen that compelled employees to think twice before overloading their plate.
Tata Consulting Services or TCS used hard-hitting statistics about food wastage in the office canteen to shame employees into taking only what they could actually eat. A notice board in the canteen said: "Take all you can eat, but eat all you take." The previous day's wastage was 45 kgs, enough to feed 180 hungry people, stated the notice board baldly.
A picture of the board was posted on Facebook by Bengaluru resident Sahiba Singh on May 4. The post has been shared at least 38,000 times so far and counting.
According to the latest Food and Agriculture Organisation or FAO estimates in 'The State of Food Insecurity in the World, 2015" report, the figures for those hungry and undernourished are highest in India. May the tribe of TCS increase.