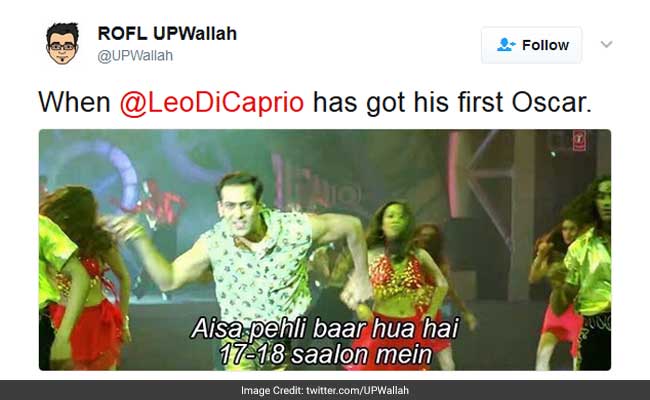 New Delhi:
Remember the song 'Aisa Pehli Baar Hua Hai' from Salman Khan's
Har Dil Jo Pyar Karega
? Well, like everything else in 2017, this too is a meme now. A still from the song went viral on Twitter yesterday as netizens captioned it with hilariously relatable situations. Earlier this year, another still from the movie of Rani Mukherjee on a hospital bed had gone viral. This time, it is a still of Salman Khan dancing. Taking the literal translation of 'aisa pehli baar hua hai 17-18 saalon mein' (something like this has happened for the first time in 17-18 years), tweeple shared their own experiences of things that happen once in a blue moon. Take a look and laugh out loud:
That's rare
@coolfunnytshirt When someone finds a script in salman khan's movie pic.twitter.com/uylrmjsPr6

- Tichkule & Tichkule (@fake__artist) April 27, 2017
Haha
When you reach office on time. pic.twitter.com/WEKEL447N9

- Faiyaz #KKR (@GujjuTweeter_) April 27, 2017
The stuff of pop culture legend
When @LeoDiCaprio has got his first Oscar. pic.twitter.com/SEtQk7TEp4

- ROFL UPWallah (@UPWallah) April 27, 2017
Fair enough
When rishtedaar doesn't compare you with other cousins. pic.twitter.com/b2r28s93Us

- Godman Chikna (@Madan_Chikna) April 27, 2017
Office jokes ruled this picture
@HaramiParindey When your leaves get approved by your manager in the first attempt. pic.twitter.com/n0E1CkcJiY

- Prakash Joshi (@manveerbb10) April 28, 2017
@HaramiParindey When you get 20% hike in your appraisal. pic.twitter.com/SxrYXdIlOD

- Kamran (@kamrank) April 28, 2017
How many of these jokes could you relate to? Do let us know using the comments section below.
Click
here for more trending stories.