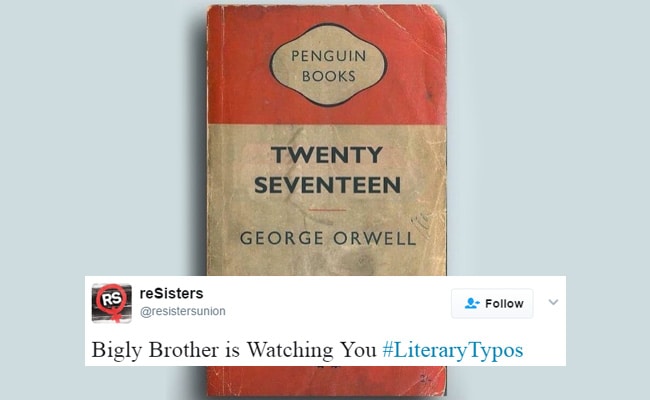 New Delhi:
It is a truth universally acknowledged that Twitter hashtags provide us with some of the funniest, wittiest content in 140 characters. In a wonderful turn of events, a Twitter trend today took on the literary world with #LiteraryTypos. From political commentary to bookish nods to slapstick humour, these literary puns have given us all this and more. Take a look and you'll know what we're talking about:
Cats managed to find a way in, of course
The Great Catsby #LiteraryTypospic.twitter.com/d66TGQPaam

- Giselle Evans (@GiselleEvns) April 14, 2017
Like they always do
Cats-22 #LiteraryTypospic.twitter.com/CrcXfSBS6p

- Simon & Schuster (@simonschuster) April 14, 2017
Always
The Great Catsby & The Handmaid's Tail #LiteraryTypospic.twitter.com/aNPvIlWFD2

- Berkley Publishing (@BerkleyPub) April 14, 2017
What a huge difference a single letter can make
The Fault in Our Stairs #LiteraryTypospic.twitter.com/xrSvM7ZIjf

- Kevin Gonzalez (@typekev) April 14, 2017
Accurate?
Bigly Brother is Watching You #LiteraryTypospic.twitter.com/Y5GKv6KZQV

- reSisters (@resistersunion) April 14, 2017
Seems about right
#LiteraryTypos
Lord of the Fries pic.twitter.com/NvxJ5Q42jx

- nathan hickey (@nathanhickey10) April 14, 2017
Twitter can't stop trolling Donald Trump
Hearts of Darkness
#LiteraryTypospic.twitter.com/CyFs4xPd5d

- Steve Redmond (@sjredmond) April 14, 2017
Jane Austen reimagined
Incense and Sensibility#LiteraryTypospic.twitter.com/ZBrK5Q5V4N

- sv (@I_see_no_spider) April 15, 2017
More accurate than the original
Gulliver's Travails #LiteraryTypos

- ikanread (@ikanread) April 14, 2017
Haha
Harry Otter and the Sorcerer's Stone #LiteraryTypospic.twitter.com/8d9gB4w2Vo

- Alachua Library (@alachualibrary) April 14, 2017
And finally...
#LiteraryTypos

BRAVE

NEW



WORD pic.twitter.com/kMziXL5TOZ- ANGERED ANTI-tRUMP (@RickReut) April 14, 2017
What do you think of these literary typos? Do let us know using the comments section below.
Click
here for more trending stories.