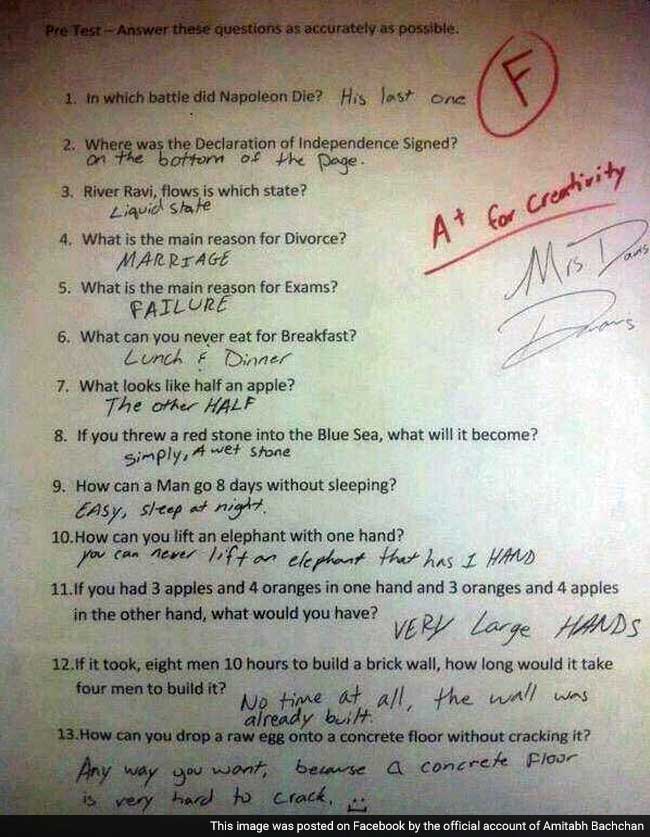 On social media-appointed 'Throwback Thursdays,' celebrities usually reserve Twitter and Facebook space for photos of themselves or their families from way back when. Uber-celeb Amitabh Bachchan bucked this trend today by posting a two-year-old picture of a rib-tickling preliminary-test answer sheet on Facebook.
The unknown examinee concentrated his talent for hilarity to what is clearly a joke test, and was 'marked' accordingly. The questions are answered 'as accurately as possible' as instructed, and rewarded with an A (for creativity, even though the answers are indisputably accurate).
Sample these:
An answer to gladden the hearts of science teachers everywhere.
Q. River Ravi flows in which state?
A. Liquid
A truer thing was never said, or written.
Q. In which battle did Napoleon die?
A. His last one
This.
Q. What is the main reason for divorce?
A. Marriage
We have no idea which comic genius constructed this incredible piece of foolery or how Mr Bachchan got his hands on it, but we do know that the it kept the quizmaster of Kaun Banega Crorepati suitably entertained. He wrote on Facebook: Hahahahahaha .. !!
Kya kamaal ke jawaab hain
.. !!
Mr Bachchan's post garnered over 3,000 likes and 6000 shares in less than hour. Mid-week humour is clearly welcomed by one and all.