'Look before you leak' should be Australia's 'think before you speak'. Bizarre has nothing on this picture of a huge python sitting comfortably in a toilet in Australia. (If creepy-crawlies make you squeamish, read further at your own risk.)
Seriously, imagine going to the toilet and finding THAT waiting to surprise you: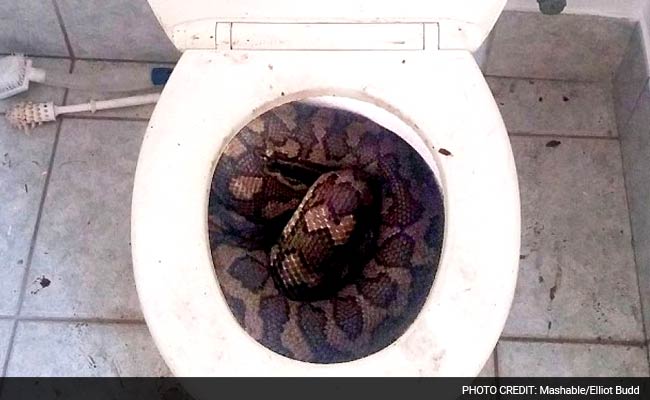 Elliot Budd, a snake catcher in Townsville was called in to remove not one but two large carpet pythons that had lodged themselves in toilet bowls.
"I hoped my days pulling snakes out of toilets were over..." Elliot said in a Facebook post, which also had pictures of the second slimy snake he had caught in North Ward, Queensland.
Nope!
Speaking to
Mashable Australia
, Budd said that the finding snakes in toilets wasn't something unheard of. It seems that the snakes, looking for water, find toilets a convenient spot to quench their thirst. "They're looking for water," he told
Mashable
. "I've gotten a few in swimming pools and in laundry sinks, and even in kitchen sinks," he added.
The first of the two snakes was captured by unbolting the toilet completely. Since the second one had lodged itself deep inside the u-bend and pipes, he had to use a different approach for it.
"I just had to hold onto him for a while until he relaxed and came out on his own accord," he said on Facebook.
Budd believes in "safe and humane snake removal and relocation" according to his Facebook page. Both snakes, one 3 meters and the other 2.4 meters in length, were eventually moved to a more suitable environment, according to
Mashable
.
Follow NDTV for latest election news and live coverage of assembly elections 2019 in Maharashtra and Haryana.
Subscribe to our YouTube channel, like us on Facebook or follow us on Twitter and Instagram for latest news and live news updates.