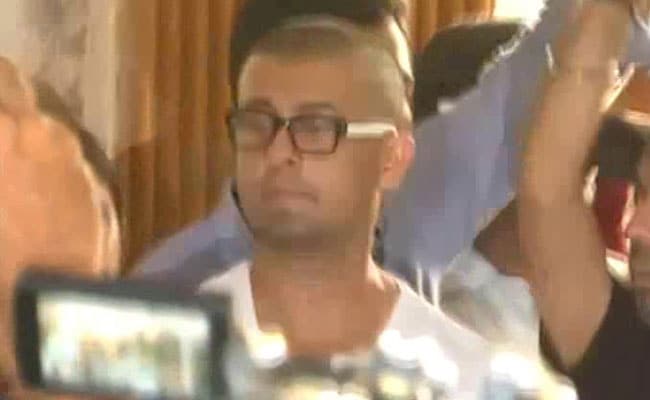 New Delhi:
In a rebuttal to a cleric from West Bengal, singer Sonu Nigam stunned everyone by shaving his head today. The cleric had offered Rs 10 lakh to anyone who shaved Sonu Nigam's head. The singer accepted the cleric's challenge and promised to shave his head in a series of tweets posted earlier today. He even asked the cleric to keep the 10 lakhs ready. Shortly after an interaction with journalists at his Juhu residence, the singer delivered on his promise and shaved his head. The cleric's challenge came after Sonu Nigam's tweets against the azaan which many on Twitter termed anti-Muslim.

Today at 2pm Aalim will come to my place, and shave my head. Keep your 10 lakhs ready Maulavi. https://t.co/5jyCmkt3pm

— Sonu Nigam (@sonunigam) April 19, 2017
And Press is welcome to participate at 2pm.

— Sonu Nigam (@sonunigam) April 19, 2017
On Monday, Sonu Nigam sparked a controversy with his
tweets
after he went on a rant about being woken up by the azaan, labelling it 'forced religiousness'. He complained about the use of loudspeakers during prayer. He even called it "gundagardi", something that he was criticised for on Twitter. His tweets divided the micro-blogging Twitter with many accusing him of being intolerant towards Islam.
Today, the 43-year-old clarified his stand and said, "I believe loudspeakers are not a necessity in temples, masjids or gurdwaras".
Twitter was abuzz with Sonu Nigam's bold move.
#SonuNigam spoke what is in the mind of most peace loving Indians. Why is he being crucified?? @sonunigampic.twitter.com/1wJZpWZioR

— Girin Govind (@GirinGovind) April 18, 2017
Challenge accepted..wow Sonu Nigam Bold move...Now let Maulana who issue Fatwa should give 10 lacs to barber #sonunigam#SonuVsFanaticspic.twitter.com/OYP6dwuTm3

— vikas (@vikas2397) April 19, 2017
#SonuNigam is going too far now! tweet tak toh theek tha but going bald and everything is exaggeration.

— Sana Shaikh (@mad_black_) April 19, 2017
@sonunigam got his head shaved off in response to a fatwa issued against him! #SonuAzaanDebate#sonunigam brave! Wud hav done d same thing! https://t.co/7v5daCLv1o

— Shrishti Negi (@shrishti_negi) April 19, 2017
#sonunigam a real man who is taking the system and haters bang on.. proud of you sir.. the only real dabang of Bollywood

— Sunny Agarwal (@sunnyagarwal) April 19, 2017
#sonunigam cut his hair to validate his point against the use of #Loudspeakers in #morning#boldstepbysonunigam

— Vaibhav rajawat (@rajawatVaibhav) April 19, 2017
Click for
more trending stories