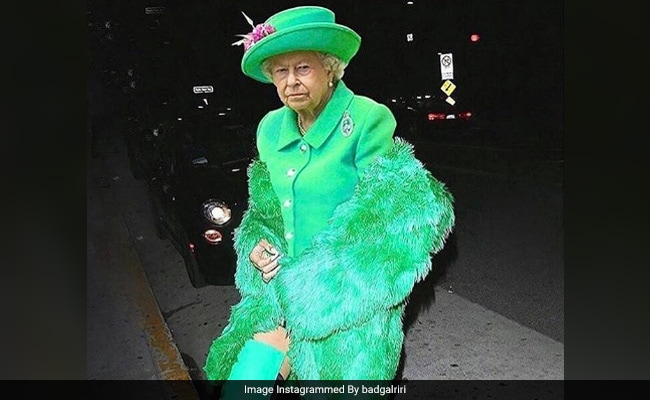 NEW DELHI:
Britain's Queen Elizabeth II turned 91 on April 21 and an unlikely birthday gift seems to have come her way. The present is from none other than pop sensation Rihanna. The singer recently posted a bunch of pictures of the Queen. Only, these aren't regular pictures. The images have been Photoshopped to show the Queen dressed in some of Rihanna's famous outfits. Now, netizens are taking to Instagram to share their thoughts on the pictures. While some say they love the edits, many others have commented saying the pictures are disrespectful. Several others have been left confused by the posts.
Among the photos shared by Rihanna, here's one that shows the Queen dressed in Rihanna's famous red-heart outfit. Interestingly, all pictures seem to have confusing lyrics as captions. This one says, "Y'all chickens is ash and I'm lotion."
Another picture shows the Queen in Rihanna's most recent Coachella outfit by Gucci.
And still another shows the Queen wearing green thigh-high boots and a fur jacket.
The pictures have collected thousands of 'likes' on the photo sharing app. However, one look at the comments section and you'll notice a varied range of opinions.
While some people think the pictures are funny, others were quick say they were in bad taste.
"This is horrific and distasteful," says a commenter on one of the pictures. "You should be ashamed of yourself! Disgusting," says another.
Many others seemed confused. "Is there a reason why it's Queen Elizabeth on these pics? Or have I missed something?" asks an Instagram user. "Why she's been edited in funny pics like this... What has the queen done anyway?" wonders another one.
Tell us what you think of the pictures in the comments section below.
Click here
for more trending stories