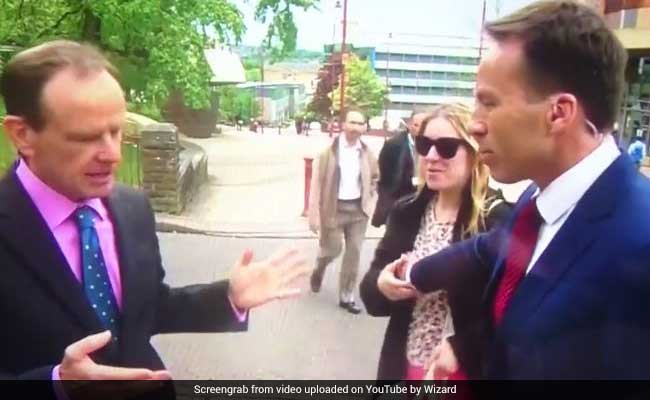 New Delhi:
While reporting on live TV, things can get out of control pretty fast and BBC's Ben Brown knows that better than anybody. On Tuesday, the reporter was interviewing his colleague Norman Smith in Bradford, England when a grinning woman entered the shot and stood beside him. She gave a thumbs up and mouthed, "absolutely fantastic". But what happened next was far from fantastic.
As he apparently tried to move her out of the frame, the journalist's hand landed, er... where it shouldn't have. The shocked woman retreated but not without a good whack on Mr Brown's shoulder.
The video of the incident went viral quickly forcing Ben Brown to address it on Twitter.
Unfortunate interruption of broadcast in Bradford - just tried to minimise disruption but v tricky live on air - completely unintentional

— Ben Brown (@BenBrownBBC) May 16, 2017
On Twitter many criticised the reporter for pushing away the woman. Few defended him saying it could have been unintentional.
@tmccrj2@BenBrownBBC Sorry, were they on private property? Is it against the law to stand in shot of the BBC? If not, he shouldn't have laid hands on anyone

— Phil Bird (@PhilBird19) May 16, 2017
Completely unacceptable from #benbrown, he clearly looked and then placed his hand. I would have given him more of a thump than she did https://t.co/pY5LHnYP8s

— Ana Feeney (@ana_feeney) May 16, 2017
Accidental or not, they are in a public place, he has no right to shove anyone out of the way.#benbrown@BBCNewshttps://t.co/p6bHqXEDPh

— #AdventureComedian (@MartinMorComedy) May 17, 2017
@tmccrj2@BenBrownBBC They're clearly on a pavement in a public area, no right to move her away. She wasn't being aggressive, just giving a thumbs up to camera.

— Phil Bird (@PhilBird19) May 16, 2017
@BenBrownBBC word of advice one word 5 letters starts with S ends with orry.

— IbbyjustIbby (@IbbyIsmail1) May 16, 2017
@BenBrownBBC That is very obvious it was unintentional. Why do people want to interupt live broadcasts?!

— LondonLovesBusiness (@LondonLovesBiz) May 16, 2017
@BenBrownBBC Unintentional or not, I think an apology is in order.

— Jill Hayward (@frdragonspouse) May 16, 2017
The journalists were
discussing
Labour Party's manifesto launch when the incident happened. The woman walked out of the frame right after the incident and the two continued their discussion.Click for more
trending news