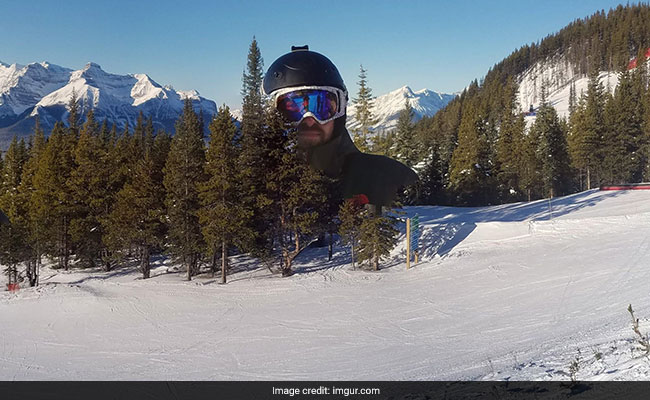 Every now and then, technology fails around us and it usually makes for a bad experience. However, sometimes technology fails in an epic way and results in something glorious. Case in point, this hilarious panorama fail shared by a Redditor whose picture is now all kinds of viral. Since being posted on January 18, the picture has collected over 1.8 lakh upvotes and more than 2200 comments.
Reddit user MalletsDarker clicked a few pictures at Lake Louise in Canada. Google Photos noticed the pictures, put them all up together with a special feature and voila - offered the Redditor this wonderful result.
I took a few shots at Lake Louise today and Google offered me this panorama:
"I am not the guy in the photo, that's my friend u/team_swilly who I photographed against the background!" explains MalletsDarker on Reddit. "I literally took like 3 pictures, one with them in, and two without them. And for some bizarre reason Google Assistant offered me a really strange panorama of the 3 photos spliced together."
The Redditor even posted the pictures they had clicked.
Info for r/funny post
The fail has since gone viral and people can't stop commenting and asking questions about the photo.
"You mean google took your pictures, made this panorama and offered it to you without you even ask? Did we reach this level of technology already?" a Reddit user asked.
"Correct, Google Photos offers you animations if several photos are taken in quick succession, sometimes puts filters on your photos and offers panoramas if it notices your photos are side by side," MalletsDarker answered.
"Oh don't worry, that's just Steve. He's a helpful giant who offers skiers boosts to a nearby hill and generous amounts of hot cocoa," comments one Redditor. "Good to see that you've become one with nature," says another.
Several others couldn't help share other panorama fails - turns out it happens more often than one would expect.
I'm not very good at taking Panoramas
Panoramic shot gone wrong
This is why I don't use panorama camera...
Cyriak, Annihilator of Worlds.
Click for more
trending news