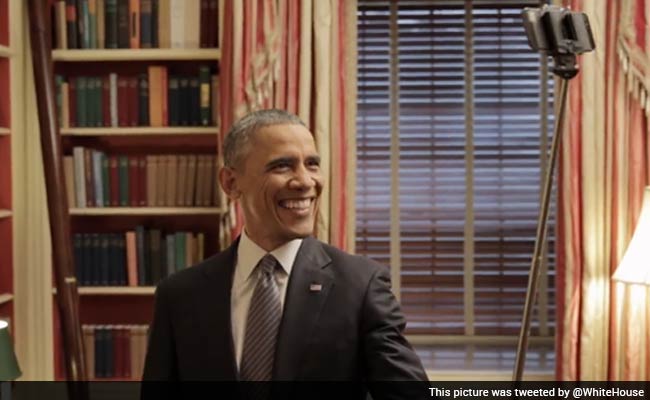 WASHINGTON:
On a recent trip to Asia, President Barack Obama was forced to confront some of the biggest issues of his presidency: rising Chinese aggression, climate change, a rocky global economy.
He also had to deal with a less weighty, but stubbornly persistent problem that has dogged him throughout his second term: the scourge of the selfie.
He complained that patrons pestered him for a selfie at his hotel gym in Vietnam. On a sidewalk in Hanoi, his most enthusiastic admirers spun away from him so they could take a selfie shot with the president in the background.
No sooner had Obama arrived at a U.S. Marine Corps base in Iwakuni, Japan, than he felt compelled to issue an order to the cheering troops: He would shake hands, but no selfies. "Otherwise, I'll be here all day," he said.
Obama has complained - with increasing regularity during his final year in office - about the prevalence of the selfie and its intrusion on his personal space. But the president, who has leveraged his image as a tech-savvy and approachable leader to mobilize young voters, has not been willing or able - despite his ample executive powers - to contain the selfie explosion. No blanket selfie ban has been issued.
The upshot: Obama and the humble smartphone have forever altered one of the most iconic American moments. Never again will citizens interact with their president in quite the same way. #ThanksObama.
Before Obama even had a chance to fully develop and set a course on selfies, there were the mini-scandals. The first came in late 2013 when he attended a memorial ceremony for his longtime political hero Nelson Mandela in Johannesburg. At one pointduring the service, Obama squeezed together with Danish Prime Minister Helle Thorning-Schmidt and British Prime Minister David Cameron for a smiling selfie taken with the Danish leader's phone.
The selfie never surfaced on the Internet, but a news photographer snapped a picture of the three leaders as they posed together. That photograph was greeted with derision on both sides of the Atlantic.
"Fun solemnity and 'selfies' make for an unpalatable combination," a Danish newspaper sniffed. In Washington, the event, naturally, was dubbed "selfie-gate."
Several months later, Boston Red Sox slugger David Ortiz pulled out a phone and snapped a selfie with Obama during a ceremony for the team on the South Lawn. When Samsung retweeted the photo with a plug for its Galaxy Note 3, senior White House officials began to suspect a setup and issued a formal objection to the commercial use of the president's likeness.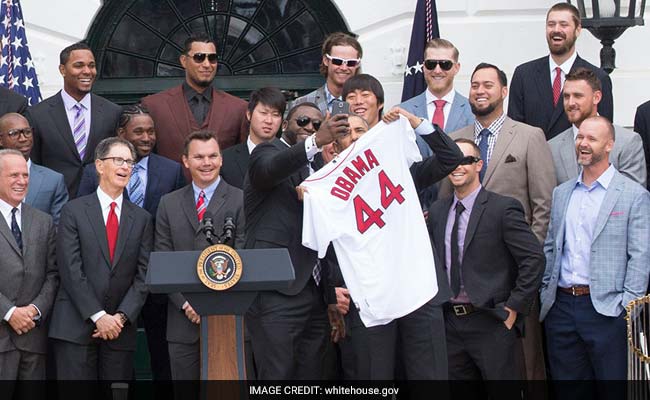 "Maybe this will be the end of all selfies," Obama adviser Dan Pfeiffer joked on CBS's Face the Nation.
But instead of steering clear of selfies, the president and his aides chose to embrace their viral power to promote his policies. When filming a lighthearted video with BuzzFeed in January 2015 to encourage young people to sign up for the Affordable Care Act, Obama was enthralled by one prop in particular - the selfie stick - and adamant that he use it properly.
"You'll raise it up just below your eye line and strike a really cool, powerful pose," the BuzzFeed video director suggested to Obama in a behind-the-scenes cellphone video.
"I'm not seeing myself," the president replied. "We've got to reverse it."
The video drew 60 million views and the selfie-stick segment, with Obama mugging for the camera, proved to be the most popular clip. The BuzzFeed crew celebrated by posting their own grainy selfie with Obama on Instagram.
Later in the year, Obama toted a selfie stick around the wilds of Alaska with celebrity survivalist Bear Grylls taking shots designed to promote the president's environmental policies. The campaign was marred only when Obama's camera-trigger finger obscured one of the selfies, an amateur mistake ridiculed online as a "dad move."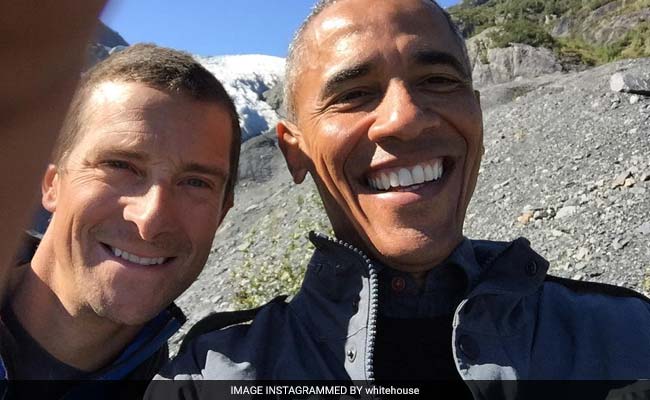 For decades, the traditional grip-and-grin photograph has been a standard part of most presidential meetings, and even today it has attributes that recommend it. Unlike the selfie, posed photos taken by the president's official photographer are almost always in focus and sometimes include a presidential autograph.
"I always thought they were as important as the historical photographs I made," said Eric Draper, President George W. Bush's chief photographer. "There are thousands of them hanging in homes, offices, and government buildings around the world."
The selfie, by contrast, offers a blurred authenticity and intimacy that more traditional photographs cannot match. They may not have the same aesthetic sophistication framed and hanging the wall, but they have more resonance in the social-media-obsessed virtual world where retweets and "likes" are precious currency.
That has made the presidential selfie a must-have, even when an official White House photographer is nearby. After Obama had lunch at a Baltimore cafe in January 2015, a half-dozen employees crowded around him and snapped their own shot.
They later received an official White House photo, but it was the selfie that the staff posted online, where it quickly went viral.
"I think it's more special because it was very casually done," said Dan Scott, a partner at the restaurant whose bug-eyed expression prompted teasing from online commenters. "It was a little embarrassing, but whatever. The people who gave me a hard time are the ones who didn't have a chance to get a selfie with the president."
By this year, Obama was such a selfie veteran that he offered some pointers to a woman in Nebraska who was so flustered when he agreed to a selfie that she had difficulty figuring out how to operate her cellphone camera.
"He kindly showed me what to do," the retired Air Force veteran told her local newspaper. "You can tell in my selfie how excited we were."
But for Obama and his wife, the selfie's popularity has increasingly become a burden. First lady Michelle Obama, who has become well known for her short, funny online GIFs promoting healthy eating and exercise, has tried to draw a line in the pixels when it comes to the smartphone portrait.
"I don't like selfies," she told a roomful of children at St. Jude's Hospital in Memphis, Tennessee, in September 2014 after one made a request. "But I'm going to do selfies for you guys."
She then posed with them.
The president also has made clear his distaste for the genre. At a fundraiser in Springfield, Illinois, earlier this year, he joked that he might not have run for the White House had smartphones and selfies been so prevalent in 2008.
"Folks just have their phones, they don't want to shake my hand anymore," Obama said. "It's like, 'Hey, I'm here, live, in front of you!'"
So how did he react just a day later in Hollywood when talk show host Ellen DeGeneres asked for a selfie? He leaned in, of course, put an arm around her and flashed a big grin.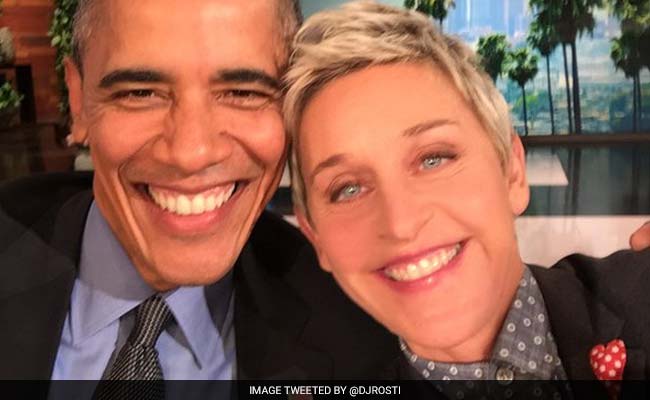 DeGeneres promptly posted the picture on Twitter.
"Selfie with the Chief," she wrote.
© 2016 The Washington Post
(This story has not been edited by NDTV staff and is auto-generated from a syndicated feed.)