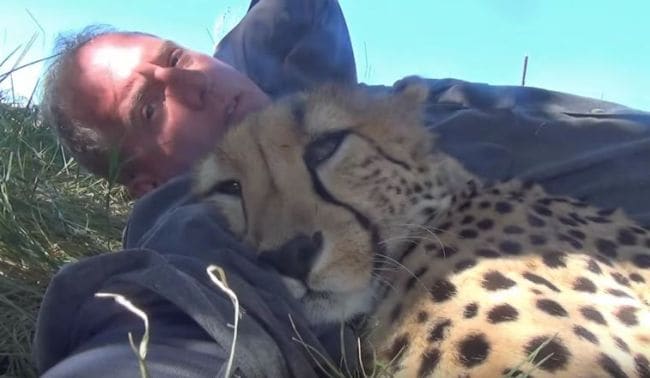 If you thought cheetahs were just scary and intimidating, allow Eden to change your mind. Well, almost.
A video uploaded on YouTube by author and animal advocate Dolph C Volker shows the three-year-old wild cat purring at her favourite human, licking him affectionately and cuddling up next to him at the Cheetah Experience, a conservation farm in South Africa.
"You're a good girl, you're a good girl," Mr Volker repeats as Eden walks over to him. She can then be seen licking his head almost affectionately as Mr Volker tries to keep calm and carry on.
"There's nothing pleasant about that," he says. Here's why - look at Eden's tongue: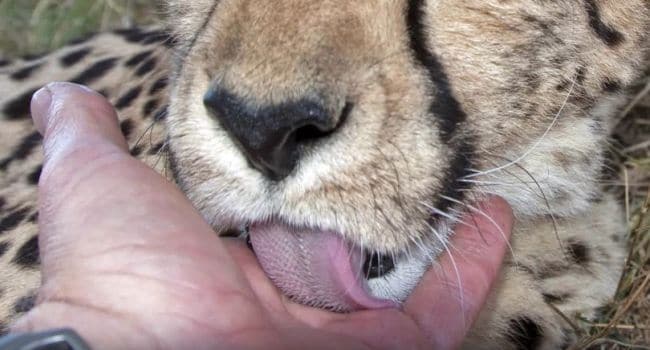 It's really not like having a house cat lick your hand.
The interaction between man and animal is affectionate but fraught - Eden clearly means to be loving towards Mr Volker but she's still a cheetah and things get a little tense at times. Mr Volker explains why he needs to keep his guard up with Eden. "She's getting ready to bite," he anticipates, and eventually she does. "She plays too hard," Mr Volker explains, adding that her behavior isn't really aggressive, but just something she does.
What's impressive is to see how Eden reacts to Mr Volker's discomfort and backs off.
Mr Volker met Eden in the summer of 2014 while volunteering at Cheetah Experience. About a year later in the summer of 2015, he spent more time with the big cat and discovered how nice she really was.
"The more she felt comfortable with me, the more she treated me just like another cheetah which included the grooming, nibbling, biting, pacifying, purring, laying on me, and sleeping... cuddling up close to me," he says on YouTube. "I'm amazed how much more interactive and affectionate cheetahs are compared to the average domesticated cat," he adds.
The video also shows the wild cat eventually cuddling next to her human friend during "snuggle time". Eden can be seen resting her head on Mr Volker's arm and napping by his side.
"Look at this, this is not aggression at all," Mr Volker says while petting her as she continues to purr; a sound that Mr Volker is comfortable with but would be intimidating to the lowlier likes of us.
Eden's not quite the
happy kitty, sleepy kitty
Sheldon Cooper sings about, but a fascinating one none the less. Take a look at the video below.