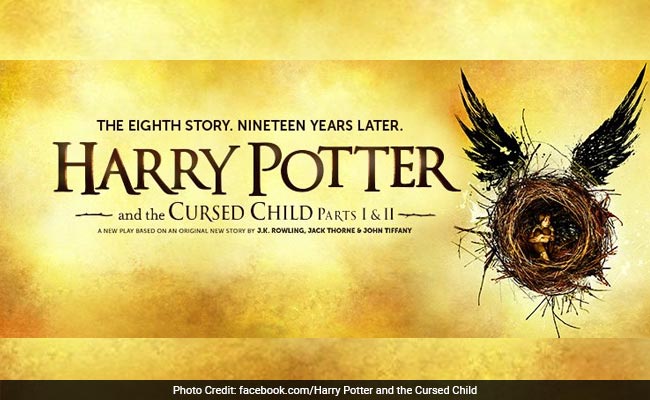 Highlights
A new Harry Potter will appear on bookshelves after nine years
'Harry Potter and the Cursed Child' hits bookshelves on July 31
The eighth story begins where the seventh book concludes
New Delhi:
As a new Harry Potter will appear on bookshelves after nine years, avid fans are leaving no stone unturned to welcome the much anticipated eighth saga.
When "Harry Potter and the Cursed Child" hits the bookshelves on July 31 at 11.30 a.m. (global release), the fever will be at its peak going by the fanfare it has created.
"Once again this is going to be a publishing sensation as the magic continues from where it left off in book seven. The rave reactions from fans, post the London previews clearly indicate that this is another classic Harry Potter," said Thomas Abraham, Managing Director of Hachette India, the publisher.
From fan events to parties in bookstores and popular hubs in metros to other cultural shows, Potter fans want to make it a memorable experience.
The eighth story begins where the seventh book, "Harry Potter and the Deathly Hallows" concludes. While Harry grapples with a past that refuses to stay where it belongs, his youngest son Albus must struggle with the weight of a family legacy he never wanted. As past and present fuse ominously in the new book, both father and son learn the uncomfortable truth: sometimes darkness comes from unexpected places.
While Delhi will see a series of events organised by Potter lovers, Chennai, Mumbai and Bangalore are also not lagging behind.
For the fans, Hachette India is also organising a contest, and the two lucky fans will win a limited edition author-signed copy of "Harry Potter and the Cursed Child" Parts 1 and 2. The contest will end on August 5.
While Cafe Red in Shahpur Jat is hosting "Harry Potter and the Fragrant Latte", an evening of board games, coffee, and magical conversations on July 31, KoolSkool in Gurgaon will be decked up to celebrate the release. Fans can drop in to buy a copy and attend the quizzes.
For Mumbaikars, Landmark Bookstores will be celebrating with delectable cake and other activities and Crossword Kemps Corner has an exciting day planned for its customers. Fans can relish yummy Potter-themed cupcakes, magical music, quizzes and much more.
Chennai fans can join Crossword in Alwarpet to celebrate the launch with exciting contests and a scavenger hunt. Starmark Bookstore and Phoenix Market City Mall are also pulling out the stops for Potter fans.
Bengaluru's dedicated fans can look forward to an exciting evening party at Lightroom Bookstore in Cooke Town.
(Except for the headline, this story has not been edited by NDTV staff and is published from a syndicated feed.)