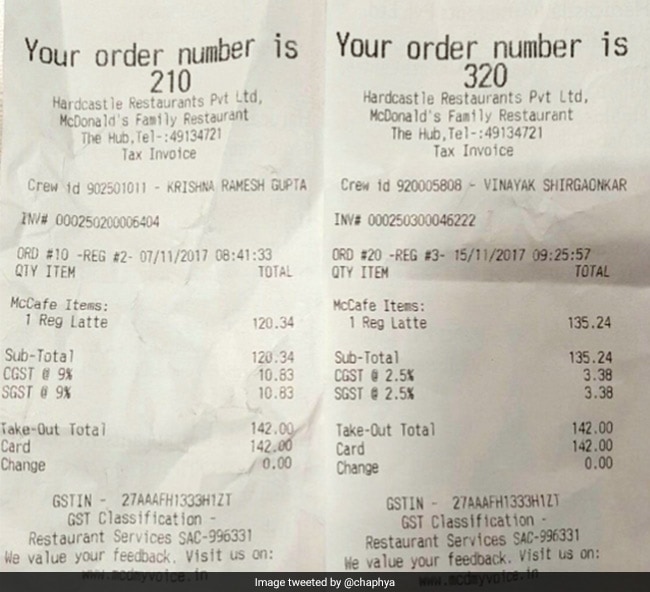 New Delhi:
In a move set to make eating out lighter on customers' pockets, the GST (Goods and Services Tax) council slashed the tax rate for restaurants last week. The tax rate for restaurants was revised downwards to a uniform 5% from the earlier 12% for non-air conditioned restaurants and 18% for air-conditioned restaurants. But restaurants won't get the benefit of input tax credit, a facility to set off tax paid on inputs with final tax. The tax cut was part of the biggest change to GST rates since July 1. Apart from restaurants, tax rates for 200 items were also slashed.
When the
new rates
came into effect yesterday, consumers were hoping to see their restaurants bill be considerably lower after companies said they will pass on the rate cut to the customers. But many astonished consumers lashed out at restaurants when they found their food bills didn't drop as drastically as they expected them to.
Angry customers on Twitter lashed out at fast food chains McDonald's and Starbucks along with pictures of food bills before and after last week's GST cut. Many pointed out that McDonald's has actually increased the MRPs (Maximum Retail Price) after the rate cut making the total bill nearly the same. Some even tagged the Finance Ministry in their tweets.
Shame on you @mcdonaldsindia Not passing on GST benefit to customers should be a crime @FinMinIndia Please take action! pic.twitter.com/P9J4gWNxfX

— Amogh Chaphalkar (@chaphya) November 15, 2017
@mcdonaldsindia Soo nice of you after GST slab down from 18% to 5% , Subsequently you increase mrp #iamlovinit@arunjaitley@ZeeNews@ndtvpic.twitter.com/lgm1vXkHhp

— arpit mohnot (@arpitmohnot) November 15, 2017
Mockery of #gst#boycottmcdonalds@McDonalds@PMOIndia@arunjaitleypic.twitter.com/QelHac6XdA

— Anand Bhaigade (@bhaigade007) November 15, 2017
.@arunjaitley@askGST_GoI@PMOIndia@adhia03 Do we have any regulation to stop such malpractice? This is being done by big name. Don't know how many small one would be doing this unnoticed. Shame @McDonalds@mcdonaldsindiahttps://t.co/iTtei4fj3o

— Nitin Kale (@imnitinkale) November 15, 2017
This is what the restaurants are doing. To keep the net impact same they are increasing the base price and reducing gst from 18 to 5% pic.twitter.com/yGLegiT6K0

— Nita Kewalramani (@Nitzmatazz) November 15, 2017
@mcdonaldsindia What is this? You guys think you are oversmart? I anyway don't eat your trashy food but will ask others to avoid. https://t.co/AYhg65jwyX

— Trader (@TraderEQFX) November 15, 2017
How delivery charges from rs. 25 goes to 30 and now 33 after gst slab got down from 18% to 5% @McDonalds@mcdonaldsindia

— tanuj (@tjjain13) November 15, 2017
@mcdonaldsindia have hiked up their prices and then taken 5% GST! So No difference in the Final Prices

— Drishti :) (@drishti_raina3) November 15, 2017
Trying to pacify angry customers, McDonald's India clarified that despite the GST rate cut, their costs have actually gone up as government removed Input Tax Credit. Restaurants earlier got input tax benefit on rent, food and other items which helped them to reduce cost. The company added that they have revised the bill structure in a way that the total amount paid by the customer remains the same.
"We believe in giving the best value to our customers, and have passed on the benefits wherever we could. We have substantially reduced the prices of some of our flagship products," the company added in a statement to NDTV.
The Government has brought down GST from 18% to 5%, but there has been a removal of Input Tax Credit.[1/3]

— McDonald's India (@mcdonaldsindia) November 15, 2017
Due to this, our operating costs have gone up. However, keeping customer convenience in mind [2/3]

— McDonald's India (@mcdonaldsindia) November 15, 2017
we have structured the changes in such a manner that total amount paid by the customer remains the same. [3/3]

— McDonald's India (@mcdonaldsindia) November 15, 2017
Most were not convinced with that argument
So did u guys reduce the prices before levying 18% earlier when u availed input tax credit ? @askGST_GoI

— Kaustubh (@K4USTU3H) November 15, 2017
Balant lies and deceit. They will never explain

— Man of Times (@zurohit) November 16, 2017
That's the most lousiest explanation I have ever come across! Price to customer should reduce! Price it at 120 and pay 6 rupees tax (5% of 120) to government. Transaction value becomes 126.Instead you are raising price. Complete illogical

— Amogh Chaphalkar (@chaphya) November 15, 2017
Stupid structure! Now if tomorrow GST is increased will you keep price to customer same? Your defence is weak

— Amogh Chaphalkar (@chaphya) November 15, 2017
Please tell us how much you had reduced price post-GST when you were able to claim input tax credits?

— RJ (@WowDoge007) November 16, 2017
Starbucks told NDTV that they too factored in the removal of the input tax credit to not reduce the overall prices. "Tata Starbucks complies with all the local laws and regulations. Following the recent revision in the Goods and Services Tax (GST) structure, we have ensured savings for our customers on every product. The rollout of the change in GST structure included the elimination of input tax credit, increasing costs for the industry. As a result, we raised our base prices, still providing savings for our customers after tax," the company said.
Click for more
trending news