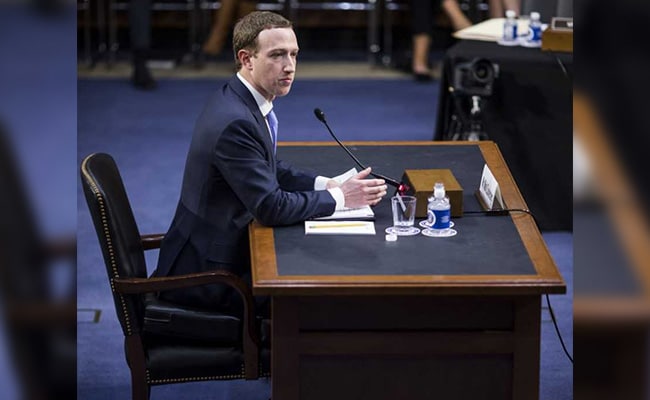 As
Facebook founder Mark Zuckerberg faced the scrutiny of over 40 US senators
, Twitter paid close attention to not just his words but also his
body language
, the awkwardly oversized-suit and even his chair. The
33-year-old billionaire was in the US Capitol building in Washington to give his testimony on the Cambridge Analytica data scandal
that hit the company. But on Twitter, apart from his testimony, there was chatter about Mark Zuckerberg using a height-boosting cushion during the five-hour hearing. In photos from the joint Congressional hearing, the 5'7" chief executive was seen sitting on a four-inch-thick cushion which didn't go unnoticed by Internet users.
It's unclear whether the cushion was specially requested by Mark Zuckerberg or whether it was brought in from his own office but as word got out on his "big boy" chair, there was no dearth of jokes on Twitter about the extra padding.
Zuckerberg is in an adult high chair. https://t.co/82tj7w5pFn

— kb. (@kirbybourbon) April 10, 2018
#Zuckerberg also needs a booster seat. Glad he could move on from his high chair! pic.twitter.com/gflS22kDaP

— Paul Lee (@PaulLee85) April 10, 2018
Can we just briefly talk about... how short this chair is for Zuckerberg's testimony? Look at those chair legs. WTF lmfao. pic.twitter.com/XEVgUl7Zap

— Harrison Kinsley (@Sentdex) April 11, 2018
#Zuckerberg had to request a high chair to use the "people" sized table and chair set. pic.twitter.com/ptafl1H4we

— /jfk/ (@kozical) April 10, 2018
That Mark Zuckerberg either demanded or, more entertainingly, brought, his own high quality leather booster chair to his senate hearing is everything you need to know about Mark Zuckerberg. https://t.co/i23D4aD39I

— Laura Jean (@lauraincapetown) April 10, 2018
#Zuckerberg brought his own high chair ha ha ha ha ha ha.

— FGF111 (@fisherfank3) April 11, 2018
Zuckerberg got a booster chair, priceless. https://t.co/dhr861MjlD

— RiseFromTheAshes (@amelie811) April 11, 2018
His advance "team" couldn't arrange a proper chair? Horrible optics but hilarious....Mark Zuckerberg used a booster seat to testify before Congress https://t.co/w5Mzl8i2eK via @nypost

— Benjamin Fisher (@AbsoluteFisher) April 11, 2018
Zuckerberg gets to go talk to Congress and they even put him on a baby chair

— Peter Nameth (@WilliamQuake1) April 11, 2018
Zuckerbergs BIG Dilemma

Being able to sit above the table or have your feet touch the ground#Zuckerberg#LittleSquirt#BoosterSeat#MAGApic.twitter.com/UGsyijHlEI

— Arizonakayte (@ArizonaKayte) April 11, 2018
Many also came to his defence.
Mark Zuckerberg on Tuesday took full responsibility
and repeatedly apologised for the data leak of 87 millions Facebook users by British political consultant firm Cambridge Analytica for 2016 US presidential election.
"It's clear now that we didn't do enough to prevent these tools from being used for harm," Mark Zuckerberg told senators. "That goes for fake news, foreign interference in elections, and hate speech, as well as developers and data privacy."
The social media mogul managed to deflect any specific promises to support any
congressional regulation of Facebook
and other Internet companies.
"I'll have my team follow up with you so that way we can have this discussion across the different categories where I think this discussion needs to happen," Zuckerberg told senators when asked what regulations he thought were necessary.
Mark Zuckerberg will return to the US Capitol for a second day of hearing on Wednesday.
(With inputs from agencies)
Click for more
trending news