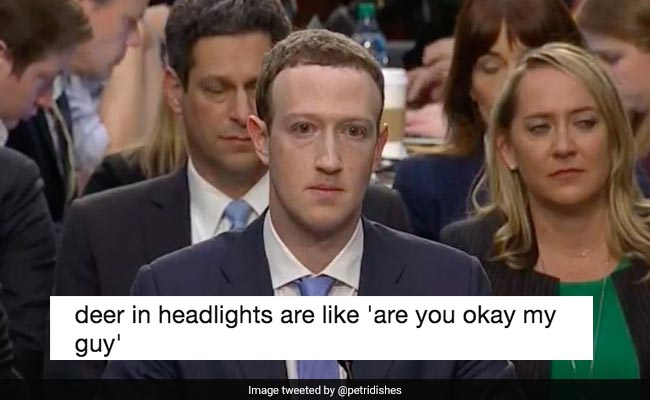 Facebook chief executive Mark Zuckerberg appeared in front of the US Congress on Tuesday afternoon to answer questions about the mishandling of user data by his company. The founder of Facebook said he took personal responsibility for the leak of data on tens of millions of its users as he faced hours of questioning from lawmakers. However, what got Twitter's attention were not his answers, but the way he looked. Clad in a navy blue suit, Mark Zuckerberg looked visibly uncomfortable and awkward. In fact, as most people noticed, he looked distinctly... robotic.
And then the memes began:
Everything from his smile to the way he drank water was scrutinized
Mark Zuckerbot at his congress hearing. pic.twitter.com/sBircl577X

- Arundhati (@discopiggu) April 11, 2018
When you're trying really hard to look like a real person and not a robot. pic.twitter.com/x5NVmg6NUI

- Aly Ellis (@alykeves) April 10, 2018
His awkwardness was gold for Twitter
when everything's fine and you feel great pic.twitter.com/d8wenWQfd5

- Ashley Feinberg (@ashleyfeinberg) April 10, 2018
Zuckerberg on his Facebook profile vs Zuckerberg at this Congressional hearing pic.twitter.com/P3bi2Ry5r4

- Tim Mak (@timkmak) April 10, 2018
Digs were taken
i enjoying mysekf at the senate hearing, but then i remembered instances of regret in my life, and pain i have caused others pic.twitter.com/AdbevclhKQ

- Gabriella Paiella (@GMPaiella) April 10, 2018
me when I realize my actions have a consequence pic.twitter.com/kNx4rL2uGl

- Amber Discko (@amberdiscko) April 10, 2018
And jokes cracked
deer in headlights are like 'are you okay my guy' pic.twitter.com/adQq827I0A

- Alexandra Petri (@petridishes) April 10, 2018
I am a natural human! I am a natural human! I am a natural human! pic.twitter.com/nC5iGuQoBH

- Sam Roudman (@sroudman) April 10, 2018
I think Mark Zuckerberg and Data were separated at birth. pic.twitter.com/UgTKo4FO5J

- Ryan Schott (@schottr) April 11, 2018
And even his booster seat was not spared
Mark Zuckerberg is so short he needed a booster seat...or that's his charger #Zuckerbergpic.twitter.com/NVE2ISeLAE

- A.J. Theiss (0/16) (@Thesis_94) April 10, 2018
The Facebook chief has been under mounting pressure over the hijacking of its user data by Cambridge Analytica, a British political consultant firm. It is
estimated
that the firm harvested the data of about 87 million users to psychologically profile voters during the 2016 election in the US.
During his testimony at Washington, Mark Zuckerberg
assured the senate
that his company will do "everything" to ensure the upcoming elections in India and other countries are safe.
"2018 is an important year for the whole world. Several countries like India, Pakistan will have elections. We'll do everything possible to ensure these elections are safe," Mr Zuckerberg said during the hearing.
Click for more
trending news