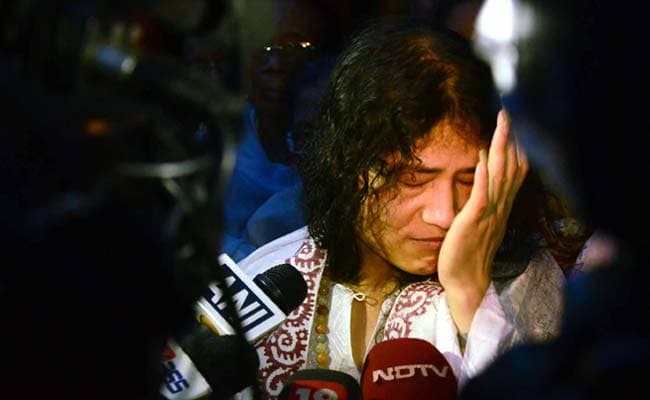 New Delhi:
Manipur
handed its 'Iron Lady' a humiliating defeat at the polls today.
Irom Sharmila, who took on Chief Minister Okram Ibobi Singh in his stronghold of Thoubal, lost with a record margin
. She got only 90 votes. The 44-year-old activist ended her 16-year fast last year against the Armed Forces' Special Powers Act (AFSPA) to contest the elections. She
said
she wanted to become the Chief Minister to continue her agitation. Twitter was quick to comment on her stunning loss - some even attributing it to Aam Aadmi Party chief Arvind Kejriwal, who publicly supported her party, the Peoples' Resurgence and Justice Alliance.
Irom Sharmila got fewer votes than Rakhi Sawant. Let that sink in.

— Tanmay Bhat (@thetanmay) March 11, 2017
That Irom Sharmila lost is the biggest blow. She gave up everything for Manipur and Manipur ignored her.

— Kewrious (@Kewrious) March 11, 2017
No one betrayed #IromSharmila Her struggle will remain an iconic for us.However she needed time/strategy #ManipurElection2017@BeingAxomiya

— Binalakshmi Nepram (@BinaNepram) March 11, 2017
@pramatheshb I knew she was not winning, bt only 90 votes, is that all she earned in years?

— Trisha Gupta (@Being_Outspoken) March 11, 2017
90 votes for Irom Sharmila's 16 years of fast & we talk about bringing change in politics !!!

— SAKSHI KHANNA (@tweetsakshi) March 11, 2017
Irom Sharmila fasted for 5840 days and received only 90 votes for her sacrifice. Let that sink in.

— Mayukh Majumdar (@themayukhsutra) March 11, 2017
Irom Sharmila got 90 votes. NOTA got 143 votes.

So, associating herself with @ArvindKejriwal did have a huge impact. #ElectionResults

— Tintin (@boringTinTin) March 11, 2017
Why Irom Sharmila got only 90 votes & lost badly.#congress#ManipurElection2017#ElectionResultspic.twitter.com/xqL9dHdHIn

— Nikhil Sapre (@FineLogic) March 11, 2017
It's time for you to live for yourself, Irom Sharmila. You have done enough for the people of Manipur. They don't even deserve you.

— Tesla (@teslaholic) March 11, 2017
After the results were announced, Ms Sharmila said she had decided to quit politics.