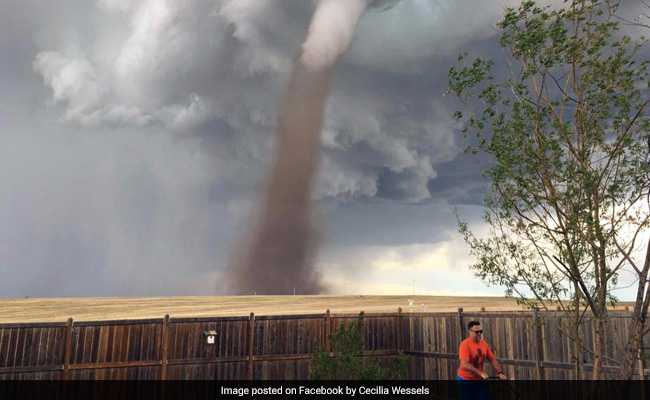 A man in Canada seems to have taken his household chores - and completing them in a timely manner - a little too seriously. A picture shared on Facebook shows Alberta resident Theunis Wessels mowing his lawn as a terrifying tornado swirls dangerously close behind him. The photo was shared by Facebook user Cecilia Wessels on June 3 and has since collected over 1,400 shares on the social networking site.
"My beast mowing the lawn with a breeze in his hair," Ms Wessels says on Facebook.
That's taking the whole 'come rain or storm' thing a little too seriously.
Ms Wessels told
BBC
that her husband "wasn't worried at all" about the storm. She added that even though the tornado looked closer, it was about two kilometers away from their house.
It was the couple's daughter, 9, who had alerted Ms Wessels about the storm and her father refusing to come in, reports
CBC News
. Ms Wessels had clicked the picture of the tornado - not unlike others in their neighbourhood - to share with her parents in South Africa. However, it was her husband who stole the attention.
"I was keeping an eye on it," Mr Wessels told
CBC News
.
Several people have shared their thoughts on the photo.
"What an amazing photo! Definitely one to print out big and frame and put on the wall," says one Facebook user. "OMG funny! And coolest pic ever," says another.Click for more
trending news