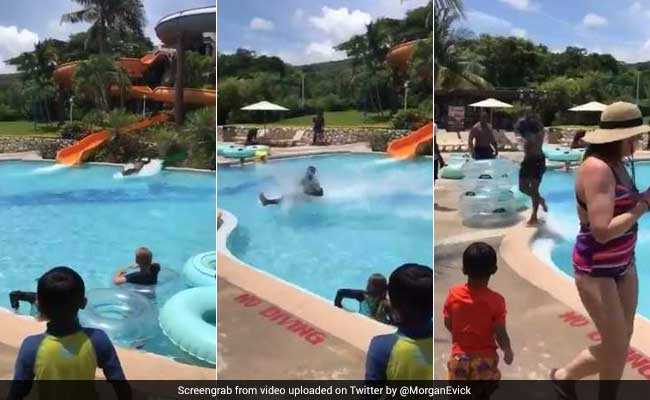 What's better than going on water slides at an amusement park in the hot summer months? How about pulling off a brilliant water slide stunt and have it go viral all over Internet? A video posted by Twitter user Morgan Evick from his vacation in Jamaica is currently blowing the Internet's collective minds. The video, barely nine seconds long, shows a man gliding down a water slide and somehow landing on the other side of the pool, then walking away like a total boss.
Posted on June 5, the video has collected over 1.5 lakh 'likes' and more than 84,000 retweets - and still very much counting.
Slidin' (literally) in the DM's like..... pic.twitter.com/1XGXS1PZ1C

- Morgan Evick (@MorganEvick) June 4, 2017
Twitter cannot help but share their thoughts on the stunt. While some are wondering if the video is edited, some are sharing their own experience from when they were at the resort and saw people attempt the stunt. Many others have simply been left thoroughly impressed.
"Video editing or a really badly designed waterslide and one lucky guy," says one Twitter user. "Video not edited. I've been to resort, saw him do it with my own eyes. He even tries to teach kids how to do it. Sometimes," says another in reply.
Here's how others are reacting:
June 5, 2017
What in the physics pic.twitter.com/M64GcvMBJT

- VEEVEE (@veeveevibez) June 5, 2017
what natural laws did he just defy?!!! pic.twitter.com/FvWlwIW9Vt

- No, Google Me Again (@TeaForTheQueen) June 5, 2017
June 5, 2017
I've been here watching this video for an hour trynna figure out how he did that so smooth like pic.twitter.com/UEZceU57dq

- Jareicho (@papikeraj) June 5, 2017
Watching this video with this face: pic.twitter.com/68TX7QnkNc

- Mariah Ahmad (@A_marea) June 6, 2017
June 5, 2017
Meanwhile, Mr Evick is hoping to find the daredevil who pulled off the stunt so he can let him know he's Internet-famous.
I needa find this dude at the resort later and let him know he's twitter famous lmao https://t.co/1yUxG1PMvT

- Morgan Evick (@MorganEvick) June 5, 2017
Guess, we'll have to wait and watch to find out how he reacts to his viral stunt. Until then, tell us what you think of this stunt in the comments section below.Click for more
trending news