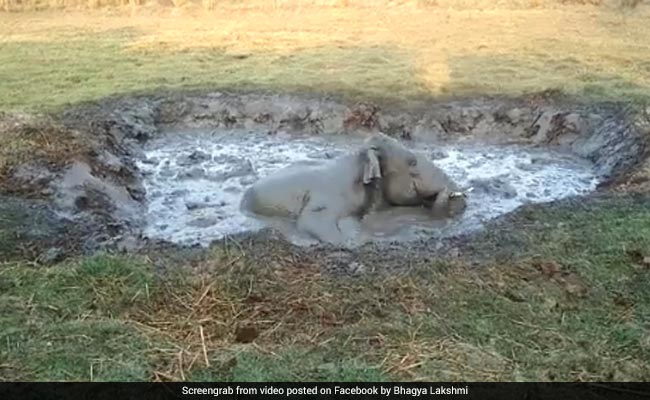 New Delhi:
A
viral video circulating on social media
shows the dramatic rescue of a young elephant from a muddy pit in Karnataka's Hassan district.
On Sunday evening, a male sub-adult elephant searching for food and water left his herd and strayed into Madihalli village, which falls in the district's elephant corridor. As he wandered into agricultural land, the young elephant suddenly fell into a swampy, muddy pit. Hearing its cries for help, many villagers rushed to rescue what they initially thought was a baby elephant. But upon seeing the fairly large pachyderm and realising they had no equipment to pull it out, the villagers left the spot and informed the forest department.
"The villagers were scared. They thought it was a small elephant but it wasn't. It is impossible for humans to rescue such a big animal using only their hands. They need some equipment," local animal activist Bhagya Lakshmi told NDTV.
But forest department officials were only able to reach the spot in the morning, forcing the distressed animal to spend the night alone in the swamp.
"It was in the muddy pit for nearly 12 hours and cried for help all night," Bhagya Lakshmi said.
The next day, with the help of villagers, forest officials arranged for an excavator machine to haul the elephant out of the swamp.
The operation that began at 9 am on Monday ended nearly three hours later as workers dug through mud to rescue the jumbo.
"They planned how to save and rescue the elephant," Bhagya Lakshmi said. "They kept on digging till the elephant was free."
When it was finally pulled out, the confused animal tried to attack the same people who saved him, a moment caught on video.
"After his rescue, the elephant attacked the operator (of the excavator) because he didn't know what they were doing. The people ran away," the activist said. Fortunately, none of them were hurt.
See how rescue played out:
But, it was a happy ending for the elephant who ran away to be reunited with his herd after being rescued.
It is common for sub-adult elephants to stray from the herd to look for food, Bhagya Lakshmi explained.
See the moment the elephant attacked the excavator machine below:
The activist hopes the viral video helps bring more awareness about elephants.Click for more
trending news