It is Prime Minister Narendra Modi's birthday today and Twitter is celebrating the day by pouring in their wishes with #HappyBirthdayPM. Celebrating his 67th birthday today, PM Modi has launched the Sardar Sarovar Dam - the world's second biggest - on the river Narmada in Gujarat. "Tomorrow, Sardar Sarovar Dam will be dedicated to the nation. This project will benefit lakhs of farmers & help fulfil people's aspirations," PM Modi tweeted yesterday. PM Modi's birthday is also being observed as 'Seva Diwas'. Various Bharatiya Janata Party leaders and ministers will attend medical camps, blood donation events and also participate in cleanliness drives today.
Just like every year on his birthday, PM Modi met his mother Heeraben Modi at her home in Gandhinagar this morning and sought her blessings.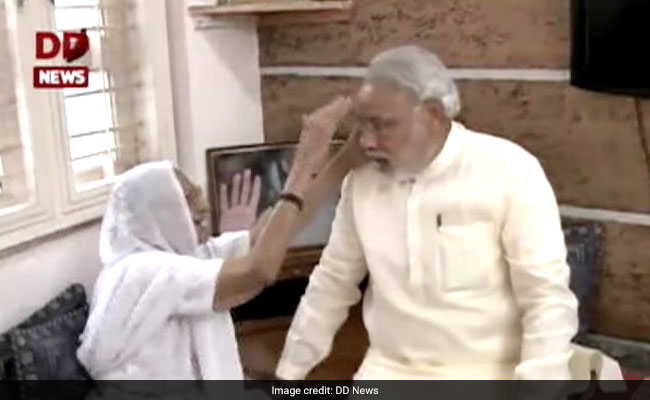 Also pouring in their wishes for the prime minister are various politicians, sportstars and celebrities who have taken to Twitter to wish PM Modi a happy birthday. #HappyBirthdayPM is trending on Twitter today.
Sending best wishes and many happy returns of the day to our honourable PM @narendramodi ji. Happy Birthday, Sir! pic.twitter.com/2tVv7bj3mf

- sachin tendulkar (@sachin_rt) September 17, 2017
You motivate and drive people to be their best.. You touch so many lives everyday.. wishing a wonderful day @narendramodi#HappyBirthdayPMpic.twitter.com/3CySBu0LOr

- Suresh Raina (@ImRaina) September 17, 2017
Happy birthday Modiji! You deserve a day off on your birthday. Thank u fr d constant progress and devlpment of d country@narendramodi

- Shikhar Dhawan (@SDhawan25) September 17, 2017
@narendramodi 1/2

- Sushma Swaraj (@SushmaSwaraj) September 17, 2017
@narendramodi 2/2

- Sushma Swaraj (@SushmaSwaraj) September 17, 2017
#HappyBirthdayPM@narendramodi Ji. Your visionary leadership is an inspiration to all. We will make #NewIndia under your able leadership. pic.twitter.com/hQRwoqrk4q

- Prakash Javadekar (@PrakashJavdekar) September 17, 2017
I proudly join the Nation in wishing our dynamic PM Shri @narendramodi ji on his birthday. #HappyBirthdayPMpic.twitter.com/m4T4NNQzOg

- Maneka Gandhi (@Manekagandhibjp) September 17, 2017
Warm greetings and Pranaam to PM Shri @narendramodi. May India become a powerful & developed country under his leadership. #HappyBirthdayPMpic.twitter.com/Wcqin4SOLN

- Ravi Shankar Prasad (@rsprasad) September 17, 2017
While serving the people, you remain my biggest inspiration, PM Shri @narendramodi ji. #HappyBirthdayPMpic.twitter.com/2fvVLWBG4g

- Sarbananda Sonowal (@sarbanandsonwal) September 17, 2017
#HappyBirthdayPM@narendramodi! May you continue to lead our nation with great honesty, selflessness & hard work for years to come. Jai Ho.

- Anupam Kher (@AnupamPkher) September 16, 2017
A very happy birthday to the honourable Prime Minister of our proud nation @narendramodi ji may the force continue to be with you....

- Karan Johar (@karanjohar) September 17, 2017
Wishing a very happy birthday to our rockstar prime minister @narendramodi !! #HappyBirthdayPM

- Sachin Jigar (@SachinJigarLive) September 17, 2017
Wishing a very Happy Birthday to the most dynamic,hard working,& Visionary PM Shri @narendramodi ji #HappyBirthdayPM Stay blessed @PMOIndia

- Madhur Bhandarkar (@imbhandarkar) September 17, 2017
"A leader is one who knows the way, goes the way & shows the way" Here's celebrating the force driving India to greatness! @narendramodi ji

- Anil Kapoor (@AnilKapoor) September 17, 2017
Here's how several others are celebrating PM Modi's birthday:
#HappyBirthdayPM An embodiment of dynamism & dedication. A hope who will lead the nation towards peace & prosperity.We are so proud of you. pic.twitter.com/EO8TVD6Xus

- Dr Shobha (@DrShobha) September 17, 2017
Many happy returns of the day @narendramodi ji. I am sure God will bless us with unlimited no. of yrs under ur leadership!#HappyBirthdayPM

- Archit Sood (@leavingliph) September 17, 2017
Wherever we go, whichever country we visit-people talk abt new India and your leadership.Proud to have you as PM of #HappyBirthdayPM

- Saurabh (@Sslt2003Saurabh) September 17, 2017
#HappyBirthdayPM
Happy Birthday to the greatest PM ever of INDIA Shri @narendramodi ji #JaiHind

- Deepak bansal (@DeepakBansal_08) September 17, 2017
@narendramodi wish you very very happy birthday #HappyBirthdayPMpic.twitter.com/0tBz29booE

- (@gauravinsa7777) September 17, 2017
A very Happy Birthday 2 my PM @narendramodi May u b blessed wd health happiness & peace May we have u as our PM 4 many yrs #HappyBirthdayPM

- Proud Indian (@varchitra) September 17, 2017
Wishing a very happy birthday to d star wich is shining nd making his country Shine like a diamond in the sky. #HappyBirthdayPM#besteverpmpic.twitter.com/JtrhmLGqRF

- Vimal Pandey (@imvimalpnd) September 17, 2017
#HappyBirthDayPradhanSevak@narendramodi ji. My SandArt at Puri beach in Odisha . #SwachhataHiSeva . pic.twitter.com/6eo9QQx613

- Sudarsan Pattnaik (@sudarsansand) September 17, 2017
Click for more
trending news