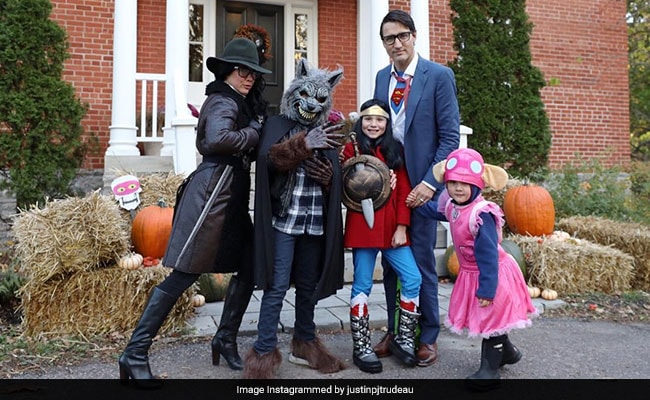 Is it a bird? Is it a plane? No, it's internet's beloved Justin Trudeau dressed as Superman's alter ego Clark Kent.
On his way to Canada's House of Commons for Question Period, Prime Minister Justin Trudeau stopped to give a glimpse of his Halloween costume for 2017 to waiting journalists. Dressed like the DC comics superhero, Trudeau sported slick gelled hair, a fitted blue suit and Clark Kent's signature glasses. Before rushing in to fulfill his parliamentarian duties, he also revealed the 'Superman' logo hiding underneath his shirt and quipped, "You gotta do it".
In celebration of Halloween, Justin Trudeau arrived for House duties dressed as Clark Kent, Superman's alter ego. https://t.co/0HoXZVefoYpic.twitter.com/JBhkvmmNFC

— CBC News (@CBCNews) October 31, 2017
The leader later went trick-and-treating with his family at Ottawa's Rideau Hall, glimpses of which were shared on social media.
Halloween with @JustinTrudeau and family pic.twitter.com/PlPU2iZPrU

— Adam Scotti (@AdamScotti) October 31, 2017
Justin Trudeau wasn't the only Canadian parliamentarian in a costume as many of his colleagues joined him in the spirit of Halloween.
Statler and Waldorf (me) had a great time today meeting with Prime Minister Clark Kent and lots of other MP's. Happy Halloween to my seat mate @avalonMPKen! pic.twitter.com/DlXppnGabI

— Bryan May (@_BryanMay) October 31, 2017
Got a red liquid on my suit before voting in the #HouseofCommons#HappyHalloweenhttps://t.co/bC9C4URjQYpic.twitter.com/VfsF1YPSGK

— RobertFalconOuellett (@DrRobbieO) October 31, 2017
So this happened today in the House of Commons! Must be Halloween! Thanks to Statler and Waldorf for dropping by. @liberal_partypic.twitter.com/56jtnHeO2u

— Darren Fisher (@DarrenFisherNS) October 31, 2017
Last year, Justin Trudeau dressed as a character from
Le Petit Prince
, a French children's book. His youngest son Hadrien dressed as the "prince".Click for more
trending news