NEW DELHI:
Can one man's dirty laundry be another man's high fashion? Apparently yes, if this international clothing brand's new line is anything to go by. Fashion brand Nordstrom has raked up quite the fashion storm on social media with their new fake muddy jeans. Yes, they're a thing now, it seems. The clothing line has come out with new dirty-looking, muddy jeans and would like you to believe they're fashionable. At Rs 29,000 or $495 a pop, the jeans have currently become social media's talking point.
If you're wondering just how muddy the pairs look, here's are pictures for your perusal. Behold!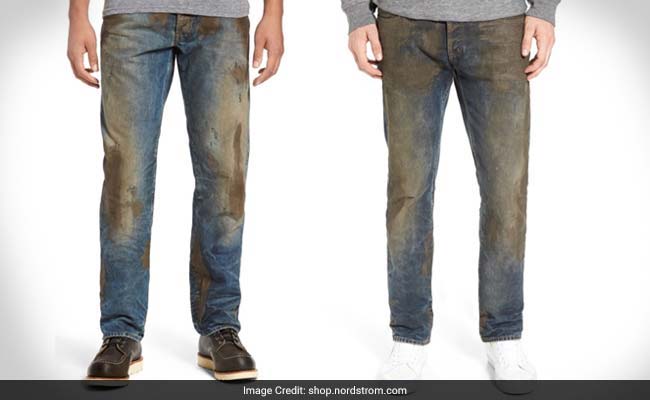 And the muddy versions aren't the only denims on offer. They also have paint stained, patchy and extremely faded versions.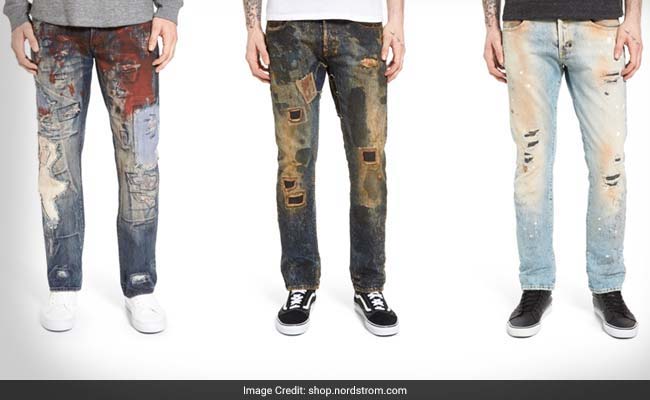 These also cost over Rs 20,000 each, just in case you're wondering. Imagine explaining these jeans to your mother.
Twitter isn't ready to accept these jeans are cool or fashionable. Here's what tweeple are saying about them.
@Nordstrom has these ridiculous jeans for sale! I got a screen shot of some of the reviews, they're !https://t.co/VgSAy0wIBjpic.twitter.com/bu4oKnOZZq

- Dustin Leer (@leerdustin) April 25, 2017
"Muddy Jeans", really?! I mean, I have an authentic pair in my dirty clothes, $400! Any takers....REAL MUD with no extra cost!

- Mariah Allcorn (@Allcorn20) April 27, 2017
These ridiculous #muddyjeans WHERE! would anyone wear them. The office? Church? On a date?
WHERE! At home alone? Who do you impress there!

- Fredric G Beckman (@beckman_fredric) April 27, 2017
#Nordstrom is selling more than just fake mud jeans. Their latest release is as bold as ever. pic.twitter.com/H160hdq7FE

- Chris David Miles (@chrisdavidmiles) April 25, 2017
Nordstrom has jeans w/ fake mud for $425. What's next? An entire wardrobe that looks like we survived a tiger attack? #mudjeans#bloodjeans

- Eric Lee Huffman (@EricLeeHuffman) April 25, 2017
If you buy a $400 pair of those muddy Nordstrom jeans, we can't be friends

- Michael Tyler (@MichaelTyler93) April 27, 2017
#United: Can someone please do something to take the heat off of us?#Nordstrom: I got you fam

- Jason Frank (@JasonMakena) April 27, 2017
Want the look of those $425 fake mud jeans? I will turn your jeans into permanently mudstained jeans for a mere $50. #muddyjeans

- Erin Lale (@erinlale) April 27, 2017
I absolutely love denim but faux #muddyjeans? No thanks, Nordstrom. pic.twitter.com/U4PB6i3Lr5

- Morag Lucey (@moragavaya) April 27, 2017
These #muddyjeans have got to be the stupidest goddamn thing I have ever seen. #makeitstop

- AJ Haeflinger (@Haeflinger75x) April 26, 2017
This isn't the first time a clothing line has exasperated people. Last year, Bollywood actor Rishi Kapoor tweeted about a pair of extra, extra ripped jeans and tops to match.
Buy two get one begging bowl free. Sale at Zara's pic.twitter.com/keoWmlbw70

- Rishi Kapoor (@chintskap) June 27, 2016
While Mr Kapoor's tweet cracked Twitter up, the pairs by Nordstrom seem to have really irked tweeple.
What do you think of the jeans? Tell us using the comments section below.
Click here
for more trending stories
Get the latest election news, live updates and election schedule for Lok Sabha Elections 2019 on ndtv.com/elections. Like us on Facebook or follow us on Twitter and Instagram for updates from each of the 543 parliamentary seats for the 2019 Indian general elections.