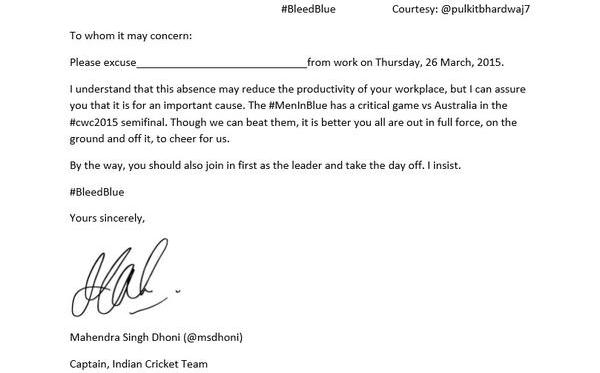 Many people have reportedly not shown up for work today all over the country. Excuses could range from the entirely plausible sudden stomach ailment to the hard to swallow dog-ate-the-car-keys. Or maybe you've just used the slogan of the moment: "The country needs me" more than my boss does today. Sample this:
I must go on leave, my country needs me #LeaveApplication#IndvsAuspic.twitter.com/1gzj6iGyjG

- Shilajit Kar (@shilajitkar) March 26, 2015
The spirit is borrowed from the most popular among many open letters and messages that have inundated social media as India are playing Australia at Sydney. This one purports to be a message from Captain Cool and has been shared many times over on Whatsapp.
Fake as it is, the author took the effort to add MS Dhoni's famous signature and even the BCCI emblem with #Bleed Blue under it. Read full letter here:
Show this to ur boss & take the day off on 26th. India needs you. @msdhoni@BCCI@StarSportsIndia#BleedBluepic.twitter.com/RSIZXKPwtn

- Pulkit Bhardwaj (@pulkitbhardwaj7) March 24, 2015
It asks bosses across the country to grant their employees leave to watch the match. In the letter "MSD" writes that while he understands that workplace productivity will dip due to his request, he nonetheless thinks it is "important" that employees get a day off to cheer for the #MenInBlue.
In fact the "captain" suggests it would amount to good leadership, if the bosses showed the way and took leave themselves.
Whoever drafted this letter clearly wanted to keep everyone happy. If you happen to be among those that drove to work today, just use this now. You know you want to. You have one eye on your computer and the other one on your phone checking the score every minute anyway.
By the way, this was clearly inspired by the not at all fake open appeal issued by New Zealand captain Brendon McCullum asking everyone to come and cheer for the Blackcaps before the NZ vs South Africa match.
In case you missed it before:
@BCCI@msdhoni How about a letter of leave for us too?? :D pic.twitter.com/j6kNMT1kiw

- Raahul (@RaahulKShah) March 23, 2015
And New Zealand won.