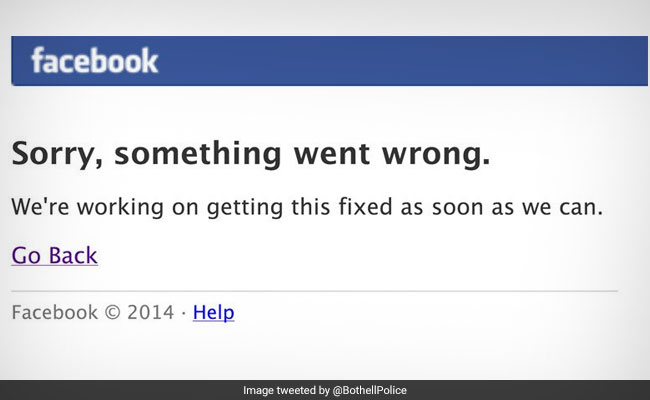 Those who are obsessed with Facebook - sharing updates, scrolling through their news feed, tagging friends in various memes - can find it very tough if the site or app suddenly doesn't work. However, even if it feels like that's an emergency that needs some quick action, calling 911 about it isn't a good idea. Yes, apparently people do that.
The official Twitter handle for Bothell Police recently put up a tweet stating that Facebook being down isn't an emergency and one perhaps shouldn't call 911 about it. Their tweet has since been circulating and has collected quite the hilarious reactions.
Here's what the official tweet says:
We will move mountains to help those in our community, however we can't fix Facebook so please don't call 911 to "let us know its down." pic.twitter.com/6K5C2s3Vsk

- Bothell Police (@BothellPolice) October 11, 2017
It's probably because of instances such as these that the facepalm emoji was invented.
The tweet has collected quite a few reactions. Most people can't seem to believe this even happens. Here's what people have to say:
common sense is dead

- Iris Kwaloff (@IKwaloff) October 11, 2017
Wait a second... did this actually happen? (The 911 call, that is...)

- Cayle Thompson, KOMO (@CayleThompson) October 11, 2017
Got it, will Tweet instead

- WillSeattle (@WillSeattle) October 11, 2017
My daughter is a dispatcher and I hear about the crazy calls coming in for just smoke in the air or their out of toilet paper.

- Amber Hurd (@Hele_Kai) October 11, 2017
Funny..I hope we don't call you for fixing the internet :)

- varghese thomas (@Cruzex100) October 12, 2017
October 11, 2017
lol amazing pic.twitter.com/tN8vJUQ16O

- Ok Then, Bro (@Amylia80) October 13, 2017
October 11, 2017
October 11, 2017
October 11, 2017
Click for more
trending news