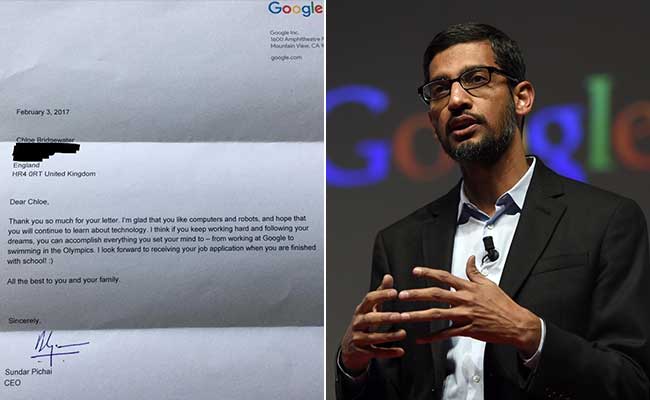 Highlights
A seven-year-old wrote the most adorable letter to 'Google Boss'
Chloe Bridgewater presented herself as a potential Google employee
Her letter was so adorable, she got a reply from Sundar Pichai himself
Of all the job applications sent to Google, this might just be the cutest. A seven-year-old, who seemed to have her heart set on working with the tech giant, wrote the most adorable letter to 'Google Boss' applying for a job. In her letter, little Chloe Bridgewater from United Kingdom presented herself as a potential Google employee and listed as her capabilities - 'sit on bean bags,' 'go down slides' and 'ride go-karts' (which is apparently what she thinks the job responsibilities at Google are). Her letter was so adorable, she got a reply from the very top - 'Google Boss' Sundar Pichai himself. "I look forward to receiving your job application when you are finished with school," says the reply on a Google letter-head, signed by Mr Pichai.
It all started when little Chloe saw pictures of the Google offices - bean bags, go karts and slides included, hence the specifics of her letter - and was so enamoured, she decided to see if they had a job for her.
Here's the letter she wrote with the help of her dad: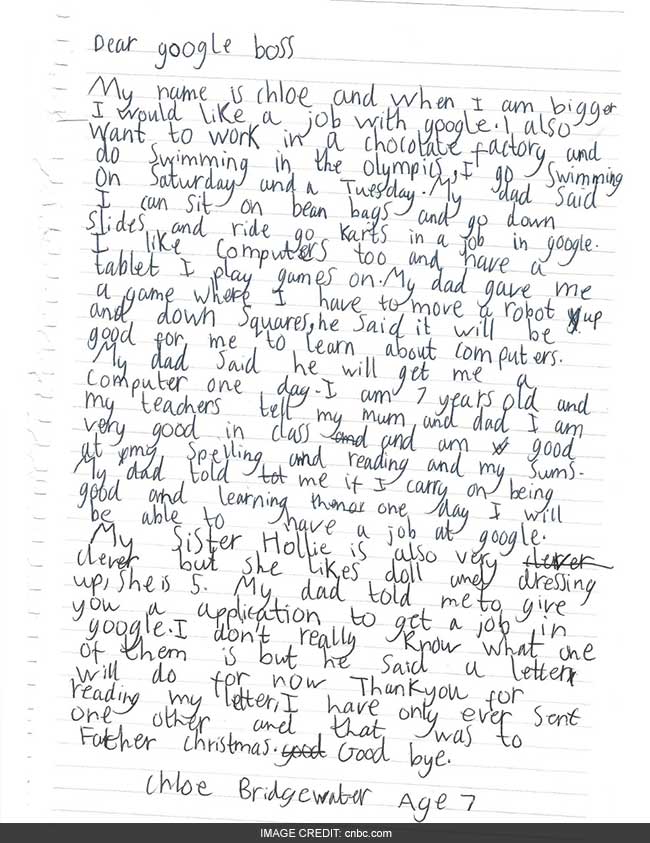 Next thing they know, Google replied to her with this wonderful letter:
my 7 yr old daughter wrote to the boss of Google asking for a job, she's so made up he replied! Thanks @sundarpichaipic.twitter.com/EMuANNHiVc

- Andy Bridgewater (@B21DGY) February 13, 2017
Wow, who wouldn't want a reply like this from 'Google Boss,' CEO Sundar Pichai?
"Can't thank such a busy person enough to take time out to make a little girl's dream become one step closer, although not sure she's fully aware that it'll take more than riding go karts and sleeping in pods to make it with Google!" wrote Chloe's dad Andy Bridgewater on LinkedIn.
It's safe to say this kid has a a bright future ahead of her.