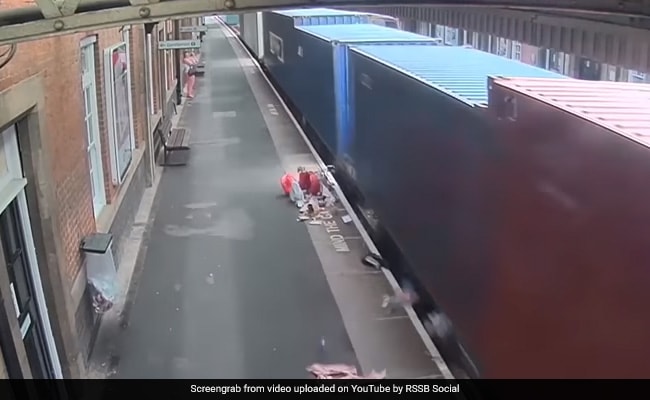 The horrifying moment an unattended stroller rolled across the station platform and was struck by a speeding train has been caught on camera. Fortunately, there wasn't a child strapped into the stroller and a tragedy was narrowly averted. The CCTV footage was released by Britain's Rail Safety and Standards Board (RSSB) as a warning to all parents.
The dramatic surveillance footage shows the stroller slowly rolling across the platform at Nuneaton station, in the West Midlands, as a train speeds past. Within moments, the stroller is crushed by the train and its contents are sent flying across the platform and onto the rail tracks.
The stroller had been left without its brakes on for barely a few seconds.
Watch the dramatic video below:
Horrifying moment a pram was struck by a speeding train.

Thankfully the pram was empty, a disaster narrowly avoided. Remember the railway is a dangerous place, always take extra care. @RSSB_railpic.twitter.com/jWdN0Om7l6

— BTP (@BTP) October 10, 2017
Though the incident occurred in July, the clip was only released to the public earlier this week to serve as a warning to parents.
In a statement on their
official website
, RSSB's Lead Human Factors Specialist Paul Leach said: "The best way of keeping you, your children and your belongings safe is to keep hold of your pram, fully applying the brake where possible."
"We know that anyone looking after children will have their hands full and may feel they can't keep an eye on everything and everyone at once. But the CCTV at Nuneaton shows just how important it is to keep control of a pushchair," Mr Leach continued.
Speaking to
Coventry Telegraph
, the mother whose stroller was ripped apart said her daughter was in the arms of her aunt at the time of the incident. Another aunt had left the stroller briefly unattended - and without the brakes on - as she stepped away to use the restroom. She said both women had learnt their lesson after the horrifying incident.
Earlier this year, a stroller with a baby strapped into it rolled onto railway tracks in Australia.
The child was rescued with seconds to spare
.Click for more
trending news